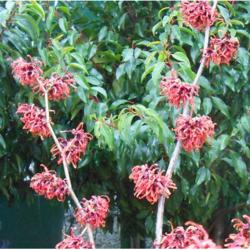 English Woodlands are detailing correct treatment of winter flowering shrubs in support of concerned customers
East-Sussex (PRWEB UK) 22 February 2013
Pruning is part of plant maintenance for some species, and doing so at the right time can encourage growth, enhance flowering and improve the shape of shrubs.
As a rule, flowering shrubs should be pruned after they bloom, with particular advantages to doing so in late winter or the early spring. The specimen is dormant and capable of handling the stress, while a lack of foliage transforms structural maintenance into an easy task. Winter-flowering shrubs require specific attention, however, and English Woodlands are releasing an advice series on their website, detailing correct treatment of these specimens in support of concerned customers.
The series introduction covers when and why to prune. Winter and early spring flowering shrubs do so on the previous year's growth. When consumers need to prune, doing so after flowering will maximise the time for new growth to occur prior to new buds being formed.
On their website, the company outlines in details the guidelines for engaging in a pruning programme. Dead, diseased and crossing branches should be removed, and congested shrubs need some stems removed to ground level, creating an open shape. The new advice series will walk consumers through where and when to prune, depending on where the plant blossoms and fruits.
A customer service representative was able to comment on the release on behalf of the company. "We always attempt to keep customers informed and making the most of their purchases with us. English Woodlands often receive calls and queries regarding the best time to prune certain plants, and we're always happy to help. It makes more sense to keep information centralised, however, so we've been increasingly creating online resources to aid customers throughout the buying and planting process. We don't want to see any consumers missing out on potential growth through a lack of information, so keeping it available in the form of blogs and resources makes a lot of sense to us."
They did go on to remind consumers to be aware of their goals before pruning. Plants usually produce fruit on the previous year's growth, so a number of flowered stems should be left intact if the intention is to harvest fruit in the spring and summer.
English Woodlands are an East-Sussex based supplier of trees, plants, shrubs and planting accessories. By extending their expertise and knowledge to the public they hope to see consumers finding more value in their investments with the business.