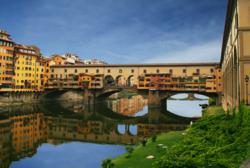 Florence, Italy (PRWEB) February 21, 2013
Florence, or Firenze, as the Italians call it, is one of the best known cities in Italy – recognized worldwide for its architectural Renaissance heritage. Home to one of the most famous aristocratic family, de Medici family, it is now hosting an incredible amount of tourists each year, every season. Hotels in Florence, Italy are being booked even a year in advance – this is what Florence lovers and even first timers do in order to get the best accommodations at the best prices.
Finding great deals on Florence accommodation means searching and booking it at least a couple of months in advance. This is one of the main reasons why Otel.com, a website belonging to the international tourism company Met Global, has recently announced that they are offering deals on Florence hotels.
"Most people go on holiday during summer time", says Otel CEO Metin Altun "because this is the period when most of people get a work leave. I'm talking especially about the month of August. If you are among those who can free themselves of their job and their work during this month, well, you will find it is a busy tourism month. Do not expect to find a Florence hotel with rooms available only 2 weeks before your departure".
Another advice that Otel CEO gives to the website's visitors and all tourists in general is to book their rooms at least 5 months in advance if they want to get the best quality at the best price. "February and March are the busiest booking months of the year, but these two months are also the period when the best deals are found and taken advantage of", he says.
Going on, the spokesperson also mentioned three of the top deals Otel is offering to its clients and visitors. These are the Medici Chapels Palace Apartments Hotel, the Gallery Art Hotel and the Firenze Suite Hotel. The city of Florence is a UNESCO world heritage site since 1982 and it has been, for a long time, declared one of the most beautiful cities in the world by magazines such as Forbes.
The city is best known for its Renaissance architecture and culture, but very few people know that it has been built during the Roman Empire and has survived thousands of years of historic challenges. Hotels in Florence were built to express exactly the Renaissance atmosphere; as a result, tourists visiting the city are really entering a time capsule. Visitors witness the history during their stay!
About Otel.com
The website offers a complete booking experience to its visitors. Otel belongs to the international tourism company Met Global. Met Global uses their vast inventory of travel products to supply travel agencies, tour operators and other travel businesses and also to power B2C & B2B websites.
On the website people are given access to a multitude of languages (approximately 21) and currencies. Thus, people from various corners of the world know exactly how much they have to pay for their accommodation.
The website is best known for its monthly deals and it is available at http://www.otel.com./