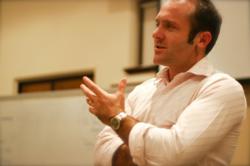 Porn addiction a massive problem.
(PRWEB) February 20, 2013
A new blog for the growing number of people suffering from porn addiction has been well received says educational expert Jonathan Doyle.
With Internet and porn addiction becoming a rapidly growing problem for many people the new blog aims to provide information and motivation for people who find that they can no longer effectively manage their own consumption of pornographic content.
Doyle is an accomplished international speaker who has delivered live seminars to over a quarter of a million people on key issues related to relationships, pornography addiction and personal development. His latest blog at stopusingpornography.com provides a weekly source of information and encouragement for those who find themselves struggling with porn addiction.
Doyle states, "After many years as a speaker I was just overwhelmed by the massive silence surrounding this issue. The stories I would hear were beyond tragic. The level of isolation and self-hatred in the lives of so many people dealing with porn addiction was extraordinary. The irony was that despite all the connection offered by the Internet none of them could easily access an online resource that would give them encouraging information that might then lead them to get help for porn addiction."
Initially, the website and blog aimed to provide a broad range of content for all people with an interest in the topic of porn addiction. However, over time, Doyle chose to focus more specifically on the needs of the those people dealing with porn addiction at a personal level.
He states, "Eventually, I needed to make a decision about how to best help the people dealing with porn addiction as an overwhelming issue in their own lives. If you can assist the addict to make change then you can help create better outcomes for families and marriages, which are often placed under chronic pressure as the addiction spins out of control."
Doyle's seminar programs explore the latest research in neuroscience and psychopharmacology as he comments, "So many people want to argue about morality or free speech when it comes to pornography. I want to help the wider community understand that what we are dealing with here is a public health question. We have clear evidence that porn addiction creates excess production of dopamine and another neurochemical called 'delta-foss B'. Too much of this has been proven to actually damage frontal lobe grey matter. In essence, what we are dealing with here is an evolutionary problem. Our brains and central nervous system evolved to experience sexual arousal but nature was not prepared for the Internet. Arousal, throughout most of history, would take place intermittently, it can now take place for hours every day due to extreme content on the Internet. No one seems to want to talk about what this means for overloaded neural circuitry, let alone intimate relationships, attitudes to normative sexual behaviour and other issues."
The blog and online resource can be accessed at http://www.stopusingpornography.com