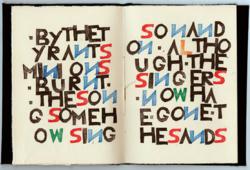 Al-Mutanabbi is a family—and what better way to help bind this family together and become a part of it, than through art. Brandon Blevins
San Francisco, CA (PRWEB) February 21, 2013
On March 5, 2007, during the States' most recent war with Iraq, an unnamed group detonated a car bomb in al-Mutanabbi Street, Baghdad's age-old center for bookselling and intellectual exchange. Killing thirty and wounding one hundred, the explosion was an attack on both human life and freedom of expression. In an instant, the bomb ravaged what had been a safe haven for Iraqi thinkers of divergent sects since the 8th century. It also targeted that invaluable medium of cultural discourse, the book.
Moved by news of the attack, San Francisco poet and bookstore owner Beau Beausoleil initiated Al-Mutanabbi Street Starts Here, a project inviting writers and letterpress artists to create broadsides in a show of solidarity with Iraqi authors, readers, and booksellers. The response was overwhelming; within two years of the bombing, Beausoleil had amassed 130 broadsides, one for each person killed or injured in the blast.
The broadsides and a series of companion readings resonated so deeply with writers and printers worldwide that Beausoleil decided to expand the original coalition. In 2010, Beausoleil put a call out to book artists to "reassemble" the inventory of al-Mutanabbi Street by submitting artists' books that would "make visible the literary bridge that connects…Iraq and ourselves." Each artist was asked to make at least three books—one to be donated to the Iraq National Library in Baghdad and two to tour the United States and Europe.
Today, the inventory has grown to 261 books from artists throughout the U.S., Canada, Australia, and Europe. As richly varied as the world's readers and writers, the reassembled inventory includes scrolls, "bricks," and other book objects made of sandpaper, papier-mâché, ex-votos, transparent acrylic, fiberboard, ultraviolet ink, ready-mades, and conventional bookmaking materials. Participating artists employed everything from traditional to high-tech to experimental bookmaking techniques and used both ancient and original texts from an array of genres and languages. Though each book is distinct, they all grapple with understanding the implications of the bombing for both the citizens of Iraq and the international community.
Beginning this month, a portion of the inventory will visit Beausoleil's hometown in an exhibit hosted by one of the project's original supporters, San Francisco Center for the Book (SFCB). When Beausoleil first conceived of the coalition in 2007, SFCB was one of the first organizations he approached for assistance. Then-director Steve Woodall's response was swift and definitive: "What can we do to help?" Soon after, SFCB contributed the first broadside to the project—the poster for the inaugural Al-Mutanabbi Street Reading at the San Francisco Public Library. Woodall also connected Beausoleil with other letterpress and book artists, one of whom, Sarah Bodman, became his co-organizer for both the broadside and book arts projects.
Four years later, when Beausoleil asked SFCB to show part of the inventory, Kathleen Burch, the Center's cofounder, gave the same unwavering support. Burch and her staff were eager to exhibit work that so closely matched the Center's mission: to honor the book's history, artistry, and importance as a medium of self-expression. From February 1 to May 11, 2013, SFCB will exhibit 54 books from the inventory in the gallery space of its new building at 375 Rhode Island Street, San Francisco, CA, 94103. The Al-Mutanabbi Street Starts Here exhibition can be viewed during regular hours—Monday through Friday from 10 a.m. to 5 p.m. and Saturday from noon to 4 p.m.—and proceeds from sales and donations received by the Al-Mutanabbi Coalition will go to Doctors without Borders.
As part of its public programming for the exhibit, SFCB will be hosting the fifth anniversary Al-Mutanabbi Street Starts Here reading on Tuesday, March 5, 2013, from 6 to 8 p.m. Beau Beausoleil will emcee an evening of reading and discussion about the Coalition's efforts to address the cultural and physical wounds left behind by bombing. Also in conjunction with the exhibit, SFCB will offer an evening workshop in Arabic calligraphy, illustration, and basic bookmaking on March 22, 2013, from 6:30 to 9:30 p.m. SFCB's exhibit coordinator, Sas Colby, will co-teach the cross-cultural bookmaking class with multi-media artist Salma Arastu. The workshop, which is open to all levels, will engage with the themes of the exhibit, exploring ideas around freedom of speech and press, Arabic culture and literature, the effects of violence, the possibility of peace, and the desire to bridge cultural divides. Those interested in the class can register online at sfcb.org for a nominal fee.
###
For more information or images of the artwork in the exhibit, please contact Linda Marshall, San Francisco Center for the Book's director of marketing and administration, at 415-565-0545 or linda(at)sfcb(dot)org.
About San Francisco Center for the Book
The San Francisco Center for the Book (SFCB) fosters the joy of books and bookmaking through programs that honor the book's history, artistry, and importance as a medium of self-expression. The Center offers workshops, exhibitions, public festivals, and equipment rental and studio space, providing a home for book artists and a place where the wider community can discover book arts. Hosting 300 workshops each year, SFCB provides learning opportunities at all levels in traditional, cutting-edge, and experimental techniques for lettering, printing, paper-making, and book construction. Free public programs include opening receptions for exhibitions, readings, book release parties, gallery talks, open houses, and festivals such as the Earth Day Extravaganza, the Holiday Fair, and the Roadworks Street Fair.