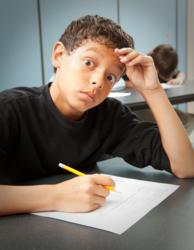 Teachers and parents should encourage students to complete practice exams over a period of time to better prepare for standardized tests.
San Diego, CA (PRWEB) February 21, 2013
Back to school in 2013 means California teachers and students are gearing up for STAR testing, the program used to determine how well students and schools are performing. Depending on each school's schedule and the guidelines provided by the California Department of Education, STAR testing begins in March and runs through May, with students in grades two through eleven taking tests in history, math, reading, science and writing.
When preparing for the STAR tests, students often spend countless hours trying to memorize material from a variety of guides. This can be a tiring process and leave many pupils wondering if they are improving their chances of scoring higher, or if they are confusing themselves with information. However, new research is suggesting individuals who want to prepare for exams should take practice tests, as the process could help them retain more details, ultimately leading to a better understanding and result.
Research recently published in the online journal Science found that, although schools focus more on learning activities based on studying and memorization, using practice tests could be the better option.
The researchers referred to taking practice tests as retrieving and reconstructing knowledge, and noted this form of learning is not used as heavily in the school system. The scientists hope that through these findings, that mindset will change.
According to another study published last month in Psychological Science in the Public Interest, John Dunlosky of Kent State University and a group of renowned psychological scientists reviewed the scientific evidence for ten learning techniques commonly used by students. While the actual ten learning strategies differ broadly in proficiency, two methods — distributed practice and practice testing — obtained the highest overall utility rating.
"These strategies are largely overlooked in the educational psychology textbooks that beginning teachers read, so they don't get a good introduction to them or how to use them while teaching," Dunlosky explains. "Nevertheless, when used properly, we suspect that they will produce meaningful gains in performance in the classroom, on achievement tests, and on many tasks encountered across the life span."
Because of these recent findings, teachers and parents should encourage students to complete practice exams over a period of time to better prepare for standardized tests. Bright Education provides an online study strategy that includes the highly effective methods of practice testing and distributed practice proven to increase both learning and retention.
Bright Education, a subsidiary of FunEducation, Inc., is a leader in standardized test preparation dedicated to improving student test performance on assessments like the California STAR, ITBS, SAT-10, Terra Nova, CRCT and Common Core State Standards. Using our system of printable and online practice materials is proven to increase student scores on state standardized tests.