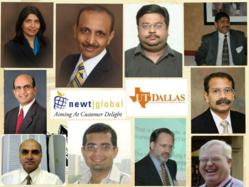 Irving, Texas (PRWEB) February 28, 2013
Newt Global is delighted to announce its partnership with the Leadership Center of the University of Texas at Dallas (UT Dallas). Leadership Center UT Dallas has superior practitioners from all over the world, with the goal of creating a deeper and more meaningful understanding of ethical leadership across diverse cultural contexts. Prof. Usman A. Ghani, a visiting clinical professor at the University of Texas at Dallas, is renowned for his record of developing board policies and business strategies. Prof. Padmakumar Nair is a clinical professor specializing in organizations, strategy and international management and is the academic director at the Leadership Center at the University of Texas at Dallas.
By partnering with the Leadership Center at UT Dallas, Newt Global has access to world class knowledge, insights and incredible research to successfully meeting leadership challenges and developing high performance teams. In addition, partnership with UT Dallas will help Newt Global achieve success and sustainable development through ethical leadership and innovation. Our partnership will also provide us with a renewed Intellectual climate which will ultimately lead to employee self- motivation and performance.
A three day 'Leadership Summit' in December 2012 marked the first steps in the partnership between Newt Global and the Leadership Center UTD. The Summit started with a discussion on managerial challenges in order to address complex leadership issues in organizations. Leadership Center at UT Dallas and Newt Global shared thoughts about organization dynamics and challenges and opportunities in the near future. Dr. Jeff Hicks, Clinical Professor at the University of Texas, Dallas, with 15 years of research experience in business strategy and organizational change, shared his research findings on the emerging trends in employee and employer behavior in his presentation 'Working 2020'. The focus of his session was directed towards scenario envisioning with detailed explanation of four possible and plausible scenarios of the future working world. The discussion with Dr. Hicks over various entrepreneurial tactics and business strategies that could be implemented at Newt Global was remarkable.
Partnering with UTD will offer new ideas, practical tools and ethical philosophies for developing sustainable organization and creating value. The partnership is also expected to provide innovative ideas for improving corporate branding for Newt Global and product positioning for Enterprise Find Me and Follow Me (efmfm), which is a unique approach to help track assets.
About Newt Global Consulting, LLC
Newt Global Consulting is a MBE/WBE/HUB Certified Global IT services company headquartered in Irving, Texas and is a Tier-1 vendor to multiple Fortune-500 clients. They specialize in a range of IT services on a broad range of technologies, mobile development, QA, and program management. Newt Global leadership is committed to staying at the forefront of technology, and has invested in building a mobile development/testing framework and has recurring training programs in both iOS and Android. Learn more at http://www.newtglobal.com
About Leadership Center, University of Texas, Dallas:
The Leadership Center was established at the University of Texas at Dallas in 2004 in specific response to a pent-up need of the 21st century: to develop ethical and learning leaders in our community. We believe this concept of ethical leadership plays a vital role in the leadership process that translates into better leaders in business, government, and society. http://jindal.utdallas.edu/centers-of-excellence/leadership-center/