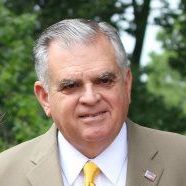 "I am honored to receive this award from WTS, and even more importantly, I am grateful for their work with the Department of Transportation to encourage more young women to pursue studies that can lead to careers in transportation."
Washington, DC (PRWEB) February 19, 2013
WTS International announced that it has chosen U.S. Department of Transportation Secretary Ray LaHood as its first-ever recipient of the Navigator Award.
The Navigator Award was created by WTS International to recognize the achievements of an individual or organization for extraordinary efforts to attract, retain, and advance women in the transportation industry. This is the first time that WTS, the association for the advancement of women in transportation, is presenting the award.
"WTS will be recognizing individuals and organizations with the Navigator award on an annual basis, and we are honored to have Secretary LaHood accept this award first, as he has stood behind our mission and created new opportunities for a diverse and inclusive workforce," said WTS International's President and CEO, Marcia Ferranto.
"Women have a vital role to play in revitalizing our country's transportation infrastructure," Secretary LaHood said. "I am honored to receive this award from WTS, and even more importantly, I am grateful for their work with the Department of Transportation to encourage more young women to pursue studies that can lead to careers in transportation."
The association has developed a reputation in the transportation industry for its many efforts to advance women in the business at all career stages, in both public and private sectors, across all modes and within all related professions. The relationship that WTS has developed with Secretary LaHood and the U.S. DOT is a sacred one that has set the gender diversity issue on an accelerating path—and has caught the attention of corporations, engineering firms, and other businesses seeking opportunities to partner with associations that resonate with their own value statements, such as CH2M HILL, Parsons Brinckerhoff, and AECOM.
"WTS set out to advance women when it was founded 35 years ago, and we've made great strides as we've stayed the course over time. But when Secretary LaHood got behind us and began to partner with us and other organizations like ours, the industry really caught on to the importance of attracting, retaining, and advancing a diverse workforce," said Ferranto.
Secretary LaHood talks about the importance of the mission frequently when at the podium, and his blog is no exception:
"...At DOT, we are also deeply committed to supporting women in every field of transportation--and we are reaching out to girls and young women who are looking for rewarding careers.
"The good news is that--as we revitalize our nation's transportation infrastructure--the entire industry is full of opportunities. Many modes of transportation will need environmental engineering and alternative fuel research. And the railroad, construction, and aerospace industries will certainly need highly skilled professionals in the years ahead.
"...The United States cannot afford to lag behind other industrialized nations in producing a workforce that's capable of inventing, managing, and applying the new technologies and systems that will drive our economy forward."
One specific effort that Secretary LaHood's passion came through on is WTS International's Transportation YOU program. This was a joint effort of WTS and the DOT that kicked off with the signing of a memorandum of understanding in 2010 to create programs that encourage 13 – 17 year old girls to set out on an academic path that leads to a career in transportation. The effort has already reached 30 different WTS chapters around the U.S. who offer mentorship, internship opportunities, tours, and hands-on engineering challenges.
More information about WTS and Transportation YOU, can be found at http://www.WTSinternational.org.
***
WTS International, headquartered in Washington, DC, seeks to attract, retain, and advance women in transportation. As the industry's premier multi-modal association, WTS boasts a network of approximately 6,000 transportation professionals—women and men from across the United States, Canada, and Great Britain--and it's growing globally. Every transportation mode is represented, as is every service within the industry. From federal leaders to engineers and planners, the WTS membership base represents nearly 1,500 companies and 400 agencies in more than 90 cities.
WTS Foundation has provided more than $1,000,000 in scholarships to deserving women throughout the transportation industry, supporting the next generation of transportation professionals and advancing the principles of WTS. WTS is committed to advancing women in transportation through expanding existing scholarship opportunities to women pursuing transportation related degrees, providing and promoting more educational opportunities and career development to advance women in transportation, and initiating, sponsoring and publishing research related to advancing women in transportation.