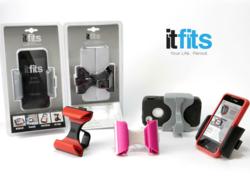 Any pledges made to the project help us get that much closer to reaching our funding goal, and making our dream a reality.
Long Branch, NJ (PRWEB) February 19, 2013
itFits is a new smartphone accessory with thermoplastic, rubber arms that flex and wrap snugly around almost every smartphone, with or without a case. The universal accessory's patent-pending technology also allows it to offer multi-functionality.
It flexes. It stands. It hooks. itFits. Offering more than six different positions, use itFits at home on the kitchen counter while following a recipe, at work while listening to music, on a plane while watching movies, attached to a sun visor while driving and so much more. Rely on itFits to act as a tripod when a steady hand is needed or to spare the innocent bystander from having to take a group photo.
Currently, itFits is holding a crowdfunding campaign on the popular crowdfunding site, Kickstarter in order to raise the funds necessary to manufacture the product. With a funding goal set to $10,000, the team behind the smartphone accessory is offering the product for a discounted price of just $15.
"Any pledges made to the project help us get that much closer to reaching our funding goal, and making our dream a reality," says Nancy Scala, co-creator of itFits. "So, we've created rewards that range from just $1 to $1,000 and we made sure to have something to offer everyone who helps support our project."
itFits is currently available in Tuxedo Black, Cherry Red, Steel Gray and Tickled Pink, but the team behind the project has promised to introduce a new Kickstarter Green itFits into the mix once they have reached their funding goal of $10,000. In the meantime, itFits is also offering other rewards in exchange for supporting their project which include funny T-shirts, Skull Candy earbud headphones, combo packs and even the opportunity to create a custom color named after the inventor him- or herself.
To support the project on Kickstarter and start using itFits this May, visit http://bit.ly/itFitsKS. Once their Kickstarter campaign has ended, itFits will retail for $19.95, so be sure to place any orders before the end of the campaign on March 6 at 3:57pm EST to receive a discount.
About itFits
itFits is a new startup dedicated to making your life easier with tech accessories. Their latest product, itFits, is a smartphone accessory which serves as a stand, recliner and hook for almost any phone on the market today. For more information on itFits, visit http://www.itfitsyourlife.com, Like them on Facebook at http://www.facebook.com/itfitsyourlife and Follow them on Twitter at http://www.twitter.com/itfitsyou.