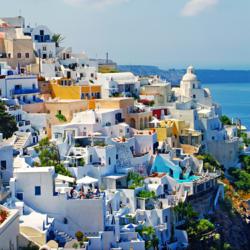 Santorini, Greece (PRWEB) February 21, 2013
Blue and white, the two representative colours of a holiday in Santorini – these are the two things that people think about when they start considering spending their summer or spring holidays at some hotels in Santorini.
Luckily for those interested in spending their summer holidays in the Greek city, Otel.com has recently released a new list of discounts for hotels in Santorini. By visiting the website, people will find accommodation in Santorini at affordable prices – the right balance between quality and price, two elements which dictate the success of every trip abroad.
"The Santorini Greece hotels are our website's pride", says Otel.com CEO, "because their managers succeed in offering high quality services at very competitive prices. This is how we can offer, in our turn, some great deals to our clients and visitors".
Santorini hotels are famous for their innovative and unique setting. For example, the Strogilli Villas Hotel is a three star hotel which skillfully manages to convince its visitors to fall in love with the city. The simple, white, traditional rooms represent the Greek atmosphere perfectly and the views from the hotel's windows encompass a typically Greek landscape: the blue sea, the white buildings and the clear sky.
The Majestic Hotel (a five star hotel) and the Santorini Princess Hotel(again a five star hotel) are among other hotels on discount. These luxury hotels in Santorini make the perfect destination for those who are looking for a place to spend their honeymoon. Of course, while staying at one of these hotels, tourists will get access to a wide range of services such as TV, WiFi, beaches close-by or even swimming pool and fitness centers.
About Otel.com
The website offers a complete booking experience to its visitors. Otel belongs to the international tourism company Met Global. Met Global uses their vast inventory of travel products to supply travel agencies, tour operators and other travel businesses and also to strengthen B2C & B2B websites.
On the website people are given access to a multitude of languages (approximately 21) and price currencies. Thus, people from various corners of the world know exactly how much they have to pay for their accommodation.
The website is best known for its monthly deals and it is available at http://www.otel.com./