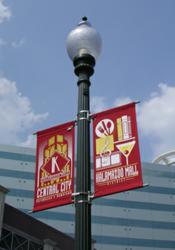 Kalamazoo, MI (PRWEB) February 20, 2013
Communities are more and more using light pole banners to add excitement and community spirit to events and occasions. Yet many communities in high wind and hurricane zones face challenges using banners due to risks of light pole damage from the extra wind resistance created by large banners, in addition to worries of damage to the banners themselves.
However, communities such as Hallandale, FL are turning to advanced banners and brackets as a way to add beauty to their streets or promote current events that provide up to 50% less wind resistance than conventional banners and hardware. This banner system, innovated by Kalamazoo Banner Works, has been developed with strength, durability and reduced wind resistance in mind.
Depending on actual wind force, the design provides a significant reduction in effective projected area (EPA) using a specially shaped fiberglass rod installed at slight angles to place the banner in tension so that the wind force is immediately transferred to the fiberglass arms, reducing load onto the light pole.
This system absorbs shock and prevents detrimental banner "flapping" and undue pole vibration, which is the major cause of wear and tear. The fiberglass arms may also be removed if no banner is present, while the mounting hardware can remain on the pole until it is needed again.
While some neighborhoods find various forms of outdoor advertising amongst the debris following large storms and hurricanes, towns and shopping centers that use the KBW BannerFlex have not only saved time from clean-up, they have saved money.
David J. Cangemi, in charge of General Services for the City of Hallandale, FL was especially impressed with the KBW banner system's performance saying, "A tropical storm came blasting through south Florida. Debris and banners were dispersed all over the city. I used KBW and not one of our banners was lost."
Since 1983 KBW has been a leading outdoor banner products innovator, and has made it their mission to ensure reliability. KBW has conducted extensive wind tunnel tests, as well as wind load/aeronautic computer simulations of the banner and hardware components to ensure reliability and minimize wind resistance.
Stock seasonal banners are available online and come in three different sizes: 30" x 94", 30" x 60", and 18" x 36". Customized banners are also available in just a matter of days and most creative design services are free of charge. The banners are either digitally printed on heavy vinyl substrates or screen printed on 100% marine acrylic fabrics, depending on customer requirements.
For more info, call 800-525-6424 toll free; Fax 888-880-6341 toll free; email info(at)consort(dot)com; visit http://www.kalamazoobanner.com; or write to Consort Display Group, 2129 Portage St., Kalamazoo, MI 49001, USA.