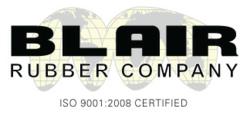 Both the new website and MARSEAL® membranes will greatly benefit our customers.
Akron, Ohio (PRWEB) February 20, 2013
Headquartered in Seville, Ohio, Blair Rubber manufactures and markets rubber linings that are used to protect the metal and concrete used in chemical storage and transportation, food processing, nuclear environments and water treatment. Whereas Blair's products are typically use on the interior of tanks, MARSEAL® products are used in secondary containment, protecting the concrete basin should a chemical storage tank fail. MARSEAL® products have been used in lining applications for over 40 years, MARSEAL® linings are unique in that the rubber layer is flexible and virtually unaffected by UV so if the concrete cracks or moves, the MARSEAL® membrane remains intact.
"It was a natural fit to add MARSEAL® membranes to our product lines," commented Nalex Cordova, Director of Sales and Marketing. "The majority of our customers have a need for secondary containment and we can now offer a superior product that complements our primary containment linings."
Over the past twelve months, Blair has undertaken a successful global expansion with new distribution channels and rubber lining installations in China, South America, Africa and the Middle East. In an effort to better support customers both here in North America and worldwide, Blair Rubber has developed an enhanced new website providing easy access to the resources their customers need.
"Blair Rubber products are installed in harsh environments, such as nuclear and chemical processing/transportation, where corrosion protection is a key to safety," stated Cordova.
"Correct specification and installation of linings, is critical to the lining's life and performance. We needed to make our engineering manual, MSDS documents and chemical resistance tables easy to use and accessible to installers worldwide".
Designed around the needs of Blair customers, the new website features a completely revamped engineering manual that is fully accessible from a single page and easy, intuitive to use. Video tutorials are now available on-line. The website provides one click access to specification sheets, installation guidelines and MSDS documents. Last year, Blair launched a unique app for the web, iPhone, Android that provided a Chemical Resistance slide rule guide to determine the right lining for a specific chemical application. This handy mobile tool has also been updated to include a chemical cross reference to the MARSEAL® product line.
"Both the new website and MARSEAL® membranes will greatly benefit our customers. They are a great addition to Blair Rubber to help continue our growth and expansion worldwide," concluded Cordova.
###
Blair Rubber Company specializes in the design and manufacture of rubber for tank lining and belt splicing materials. Blair's rubber linings are applied to the interior of storage tanks, rail tank cars, chemical and food processing equipment, and nuclear and wastewater treatment tanks to protect the metal or concrete from corrosion. Many times, Blair's products are used to protect tanks containing extremely hazardous chemicals; any failures in a rubber lining could lead to catastrophic consequences. Blair's precise control of product quality from raw materials through manufacturing and shipment is essential to ensure that their products perform and protect.
Editor's Note: If printed in your publication, would you please forward a copy of the article and media kit to the attention of Nalex Cordova at Blair Rubber Company, 5020 Panther Parkway, Seville, Ohio 44273.