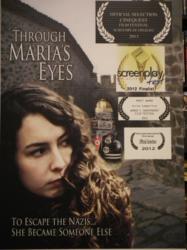 If Maria and her sister can deal with this, then what can you deal with.
Chandler AZ (PRWEB) February 25, 2013
On Wednesday February 27th from 2:15 to 4:30 PM and Friday March 1 from 3-5:00 PM there will be a book signing at Caffe Frascati, 315 S Ist St San Jose, CA of the novel Through Maria's Eyes. This is based on the dramatic screenplay, by the same name, which is a finalist in the 2013 screenplay competition at the Cinequest Film Festival. Copies of the book will be given away free to anyone who wants one as a tribute to Maria and what she went through and did for her family. Supplies are limited to accommodate the two days of signing.
The screenplay is based on the true story of the mother and aunt of David Rich, the head of DB Rich Productions. Set in Nazi occupied Budapest, 1944, Through Maria's Eyes follows the struggle of Gizella, a young Jewish woman who adopts the identity of a Catholic girl named Maria to keep her family safe. In the face of unimaginable horrors, Gizella must keep hope alive for her family, using all her wits to keep her family safe. Through Maria's Eyes is a character driven drama that shows how far one woman will go to keep her family from the Nazi menace that has appeared in her city. A story of the courage and strength required to maintain her identity as Maria surrounded by public executions and other atrocities.
DB Rich Productions, founded in 2008, has other projects in various stages of development. Actor? a documentary, is the world's first full length animated documentary about what it means to be an actor. It will be screening at the Cannes Film Festival in May of this year. The Lighthouse, a dramatic thriller starring Danny Glover is currently in post-production, and Margarine Wars, a romantic comedy set during America's Summer of Love is with their distributor Ytinifni Pictures for worldwide distribution.