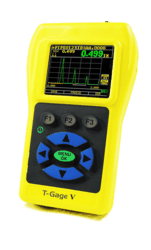 Upgradeable any time and anywhere, no need to return to the factory for upgrades.
Milton Keynes, UK (PRWEB UK) 20 February 2013
There are two series of Sonatest thickness gauges available, precision gauges and corrosion gauges. The simplest gauge for corrosion gauging applications is the Sonagage IV, which can measure metal loss within a range of 0.5mm-508mm to an accuracy of +/- 0.1mm. The Sonagage IV is ideal for the operator who tests a few different materials regularly as it contains 8 set ups for common materials and 2 custom setups.
Further gauges for corrosion assessment lie within the T-Gage V series; all of which operate for up to 200 hours, on a single set of AA alkaline batteries.
The T-Gage V series of gauges offer monochrome displays as standard. However to enhance the user experience a colour TFT display can be configured, as can the additional A-Scan functionality. Simple in-field upgrade options, for such features as data logging with Data XLS, A/B-Scan displays are all available throughout the life of your gauge via upgradeable options. Hence providing a "future proof" instrument without the need to return the gauge to the factory.
The T-Gage V series comes in three standard variants. T-Gage VB which has a variable velocity facility to allow a wider range of materials to be measured. The T-Gage V which is a mid-range model which offers the most popular features including echo–to-echo for ignoring coatings, alarms including vibration and illuminated keypad and the "Transducer attendant" which notifies the user when to replace the transducer. A-Scan Mode displays min or max thickness values at 20 measurements per second.
The T-Gage VDL is the top of the range model offering all the features of the T-Gage V together with the flexible data logger, allowing storage and review of up to 100,000 readings. A powerful feature and unique in its` class is the encoded B-Scan which enables up to 20 thickness readings per second to be displayed in a cross-sectional view and storage for future analysis and reporting.
For the T-gage V series there is a wide selection of accessories and transducers for difficult access and high temperature applications.
For applications which require greater accuracy and capability particularly at the
extreme range of the measurable thickness, the Microgage III series is the one to choose. The Microgage III is available in 7 models including basic, data-logging, with and without waveform in Colour or Monochrome.
Weighing 230g and these instruments are ideally sized for hand held operation, with a battery life of up to 200 hours. They are provided with a limited 2 year warranty, couplant and carrycase as standard.
Together with providing the best in value instrumentation, Sonatest aims to provide outstanding commitment to customer support and product service, ensuring the user experience is a winning one.