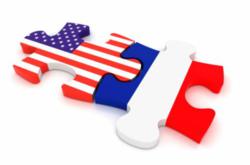 Our newest report helps [French firms] understand the challenges ahead so they can enter the US marketplace more prepared
New York, NY (PRWEB) February 20, 2013
BrandWire NYC, a digital marketing and branding firm with locations in New York City and New Jersey, published a new informative report that outlines the keys for French brands to be successful in the global marketplace. "How French Brands Triumph in the U.S." is now available at the BrandWire NYC website, highlighting the best strategies for French Brands looking to establish themselves in the U.S. market.
"One of our focuses has always been local marketing. With the progression of the internet, having a physical location isn't always required to be effective in a particular market. Of course, you still need to research and understand that market – the buying habits, trends, and how to adjust your strategies and products to be successful." said Lucien von Wehren, Director of Marketing at BrandWire NYC "That's why we introduced marketing services specifically tailored to French brands trying to impact the US – our multicultural French and American team works together to find the best methods for French firms to gain visibility and connect with their target consumer audiences. Our newest project outlines these keys so our clients can begin to understand what it takes to have an effective brand in the American market."
The full report, found on BrandWire's website, breaks what can seem like a daunting task into manageable pieces. Understanding what makes your brand strong – be it location, product differentiation, or the brand itself - is the first key component. Understanding the differences between French marketing and American marketing, outlining the successes and failures of other French brands in the American market, and how to emulate the successes and avoid the pitfalls.
"Search Engine Optimization is something that has completely changed the way companies think about marketing." mentioned Barry Dyke, project manager for BrandWire NYC. "Particularly with smaller brands, both French and American, internet advertising is many times the best option. Television and print are still extremely active, but more and more customers are looking to search engines and social networks for information on the best products. You're reaching people who are out actively researching your product and more likely to convert into a customer. And with e-commerce services, physical location is not the factor it once was – we have the ability to ship anywhere in the world."
BrandWire NYC offers a host of internet marketing services – Social Media Marketing that engages thousands of users on Twitter and Facebook to Local Search Engine optimization that focuses on letting your neighbors find you and become customers. "Much like the brands we serve looking to become global through branding services, we don't constrain ourselves to one market. We know what works for the New York market, but our staff's broad talents have allowed us to serve clients throughout the U.S. and globally. Due to our team's experience with both French and American culture, we have been able to tailor our marketing services to the needs of French firms that want to establish themselves in the United States. Our newest report helps them understand the challenges ahead so they can enter the US marketplace more prepared." said von Wehren.
About BrandWire NYC: BrandWire NYC is a digital marketing agency located on Madison Avenue, New York. The agency's multicultural team is able to offer unique services for French companies looking to establish themselves in the American marketplace. BrandWire connects brand messaging and values with potential customers in the most efficient ways possible; leveraging the latest online marketing channels to target ONLY prospective customers so that no marketing dollar is wasted. A unique tracking system allows BrandWire to monitor progress while staying accountable to its clients. To learn more about BrandWire NYC, visit http://www.brandwirenyc.com