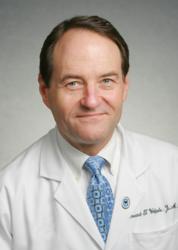 "I am looking forward to being a part of a discussion to help medical professionals run their practices more efficiently and to focus on ways to provide the highest quality for the lowest cost with healthcare reform."
Freeport, The Bahamas (PRWEB) February 21, 2013
Okyanos Heart Institute, which brings a new standard of care and better quality of life to patients with chronic coronary artery disease using cardiac stem cell therapy, announces that Chief Medical Officer Howard T. Walpole Jr., M.D., MBA, FACC, FACAI will speak at The American College of Cardiology's (ACC's) Florida Chapter Conference. Dr. Walpole will discuss "Cardiovascular Practice in Florida: Survive or Thrive". The intensive workshop will help make clear how to navigate through changes that are impacting the practice of cardiovascular medicine. Presentations from several expert speakers will synthesize the status of reform and explore strategies to tackle the changes in practice settings and how to be successful in all settings: hospital employee, solo practice, or larger group practice. The forum covers such topics as changes in finance, the rapid growth and management of data, and how to stay on the forefront of quality, leadership and governance in this environment. The one day event will be held from 7:00 a.m. to 3:00 p.m. on February 23 at the Westin Hotel, located at 321 North Fort Lauderdale Beach Boulevard, Fort Lauderdale.
C. Michael Valentine, M.D., ACC treasurer and a member of the board of trustees, is in an integrated practice with The Cardiovascular Group of Centra in Lynchburg, VA, and is co-chairing the event. "The ACC created a meeting for the past two years in Las Vegas to help our members face rapid transformation challenges of practicing cardiovascular medicine and running practices," said Valentine, "and many of the smaller practices had a challenge in freeing someone to attend the meeting in Las Vegas. The Florida chapter of the ACC thought it wise to create a one-day forum for those people to attend and discuss these important changes and their impact."
"It is a privilege to address cardiovascular leaders at this conference," said Walpole. "I am looking forward to being a part of a discussion to help medical professionals run their practices more efficiently and to focus on ways to provide the highest quality for the lowest cost with healthcare reform."
More information about the workshop can be found at http://www.accfl.org/
ABOUT OKYANOS HEART INSTITUTE:
Based in Freeport, The Bahamas, Okyanos Heart Institute adheres to U.S. surgical center standards and is led by Chief Medical Officer Howard T. Walpole Jr., M.D., MBA, FACC, FACAI, and a leader of the American College of Cardiology for many years. The mission of Okyanos Heart Institute is to bring a new standard of care and a better quality of life to patients with chronic coronary artery disease using cardiac stem cell therapy. Okyanos Treatment utilizes cardiac stem cell therapy, a unique blend of stem and regenerative cells to support the growth of new blood vessels and to assist the heart in repairing tissue damaged by heart attack and disease. The Greek god of rivers, "Okyanos" symbolizes the primary mechanism of action that these adult stem cells have on ischemic (lack of blood flow) heart tissue, the result of the plaque deposits in the coronary arteries. The stem cells, derived from a person's adipose (fat) tissue, create new blood vessels, a process known as angiogenesis. The treatment helps to facilitate blood flow in the heart and intake and use of oxygen, as measured by a rigorous clinical trial known as the PRECISE trial, as well as cardiac cell therapy trials at leading research institutions. For more information, log on to http://www.okyanos.com/.
End