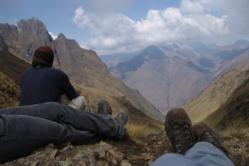 Lima, Peru (PRWEB) February 22, 2013
The Travel Specialists from the Class Adventure Travel Agency have amassed their years of personal South America travel experience to develop Encounter Peru, a new venture that offers both area highlights and personally recommended hidden gems with a unique DIY approach. Encounter provides an opportunity to see the country through a local's eyes as the tours were built directly from first hand experiences. The selection of services opt for alternatives to tourist routes when possible in favor of a more authentic and personalized adventure.
Destinations are offered in small, multi-day packages that are simply added to the shopping cart, a behavior very familiar with online shoppers today. This allows visitors to receive the benefits of a package deal (complete with hotels, airport transfers, bus tickets and excursions), while only including locations and experiences that are important to them. Once all destinations have been added, an Encounter Peru Travel Specialist will review their itinerary, ensuring the trip is arranged in the most efficient manner.
"Encounter is a passion product we've been developing to introduce something very unique to travelers. We're seeing more and more that visitors find deep-diving into local culture just as important as hitting the highlight destinations. Since we live and travel here, we have the ability to welcome visitors to experience this amazing country through a local's perspective," says Managing Director, Marc Harrison. "And by offering the destinations in small bundles, we're able to offer the prices of a package deal, while giving travelers the level of customization that's important to them."
Encounter Costa Rica launched to much success in September and is now regularly touring passengers through the country. In the coming months, Encounter Argentina and Encounter Brazil will launch, giving travelers the ability to create multi-country Latin American tours with the same custom experience as is now offered for these Peru tours.
Class Adventure Travel's team has toured over 150,000 clients throughout South America over the past 15 years. Their focus on creating custom tours to top destinations, blended with unique local experiences has been the driving source of their success.