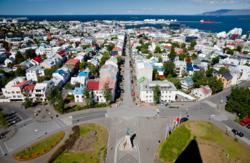 Reykjavik, Iceland (PRWEB) February 21, 2013
Iceland is, for many, not a tourist destination to consider during spring or summer. However, for those who are looking to get away for a week or two from the busy, hot and tiresome summer days, there is always the option of booking rooms in one of the Reykjavik hotels. Otel.com suggests three of the city's best hotel deals, but those interested in spending their holidays in the Icelandic capital can visit the website's official URL where they will also find deals on Reykjavik hostels.
"Who thinks about going to Reykjavik during their summer holidays?", asks Otel.com CEO Metin Altun. He continues saying that, "there are very few people who would find this suggestion attractive but I am sure that if you give it a bit of thought, it will seem like the perfect summer holiday. Oh, don't forget to book your room in advance – way in advance. There are many more people visiting the city during the summer months than you would think".
Then, the CEO goes on explaining their reason for including many of the city's hotels in their list of discounts. In his opinion, "This is a very beautiful capital. And it is exotic too. Very few tourists know how it is like to live there. I particularly recommend this destination to Australians, or those living in the Southern hemisphere. It will be a once in a lifetime experience!"
His enthusiasm is backed up by the actual offers from the Otel website. For example, among the hotels on discount count the Cabin Hotel, the 101 Hotel and the Fron Hotel. These are only three of the accommodation options Otel.com puts at its visitors' disposal.
"I hear many people wondering what they could do there; they know very few details about the city's heritage, history… even less about the fun you can get there", says Otel CEO. Going on, he mentions some of the city's landmarks, as well as some of its hotspots when it comes to having fun or shopping. These are:

The city's bay
Kjarvalsstadir, The Municipal Art Gallery
Sight-seeing tours
The Hafnarfjörður Centre of Culture
The Thermal Spas and relaxation centres
About Otel.com
Otel is part of Met Global, a worldwide tourism company that offers the best prices on hotel bookings from all around the world. Met Global uses their vast inventory of travel products to supply travel agencies, tour operators and other travel businesses and also to strengthen B2C & B2B websites.
Otel runs under the motto 'Book the perfect stay, pay the lowest price!' – therefore, the company is consistently offering best deals on hotels from various countries and continents. This month, they provide Hong Kong hotel deals and discounts on Madrid and Paris hotels.
To find out more about the company and their monthly discounts, visit their official website at http://www.otel.com/. The website is available in 21 languages, including English, Romanian, Spanish, French, and so on.