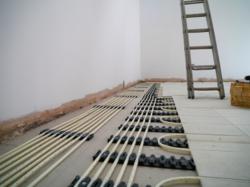 (PRWEB UK) 21 February 2013
"Nu-Heat has been in the business of designing and supplying warm water underfloor heating (UFH) for more than twenty years," says Technical Director Andrew Grimsley, "and it has proved time and again to be the ideal solution for new build properties. The big issue now, of course, is how older properties can become more energy efficient, so we have developed a floor construction that allows UFH to be utilised in many more retrofit installations."
With the emphasis now on higher efficiency heating systems, UFH has even more relevance than before. Aside from the fact that UFH offers enhanced comfort levels and greater room design opportunities it is also able to operate at lower flow temperatures where there is sufficient insulation, so efficiency can be increased and energy bills reduced.
As increasing numbers of households look to improve insulation levels in an effort to combat energy 'leaks', so the potential for retrofit UFH expands as this is also the perfect time to consider the heating system. Installers can now improve their business opportunities by offering their customers a retrofit, warm water UFH solution.
Although electric UFH has a low profile and can easily be utilised in retrofit, warm water UFH has the benefit of being more economical to run. The most practical solution, therefore, is a warm water UFH system that meets the twin requirements of low running costs and a low profile.
"Nu-Heat looked long and hard at ways of achieving this," says Andrew, "and the result was a floor construction that we call LoPro10™. This is a floating floor construction with a height build-up of just 15mm that can be fitted on top of the existing floor deck, and we believe it will make retrofit UFH far more viable."
LoPro10™ is based around a composite gypsum construction that has one-third less thermal mass than a screed floor, allowing it to heat up and cool down rapidly – making it more economical for retrofit properties and giving quicker response times than comparable, non-gypsum based products. LoPro10's™ low thermal resistance, high mass properties provide a high thermal output compared to floating floors and similar low height plywood and chipboard based systems.
To help meet Building Regulations Part E acoustic criteria, this type of floor construction should provide airborne acoustic reduction on timber upper floors by adding mass – 15.5kg/m². This also means that it feels more solid underfoot than many lightweight floating floors.
Installation of the floor construction is straightforward, as the10mm ultra-flexible PEX-c pipework is easily laid in the grooved panels in lengths of up to 60m. Unique Fastrack™ clip system assist a simple run back to the manifold with pipework laid closely, up to ten pipes side by side.
Floor coverings
The choice of floor covering will impact on the eventual height, and must be taken into account prior to installation and ideally at the design stage.
Ceramic tile, stone and marble are ideal as they conduct heat well and warm up fairly quickly. These can be laid straight on to the dense rigid gypsum board with no requirement for a ply layer. Wood coverings can be 'floated' directly over the panel – engineered boards are ideal as the cross ply gives better stability and solid hardwood flooring can also be used as long as it is kiln dried in accordance with the manufacturer's instructions. Carpet is also acceptable as long as the tog value (including the underlay) doesn't exceed 2.5. Nu-Heat provides trade customers with an installation specification guide which covers all aspects of the LoPro10™ UFH product.
Room thermostats
Wireless room thermostats provide a major benefit when retrofitting UFH systems as they remove the need for potentially disruptive and messy hard wiring. Wireless stats also provide independent time and temperature control for each room or zone. Nu-Heat's range includes a basic wired dial version, slimline pushbutton wired programmable stats, radio control programmable stats, including low-voltage options and touch screen low voltage stats with a central touch screen console, that are networked and iPhone enabled. The use of a central console allows overall control of the system without having to programme individual thermostats so room temperatures can be controlled throughout the day and can be setback to improve response times from a single point.
Each of the thermostats in Nu-Heat's range incorporates a temperature set back function to improve overall running costs and response times. The room stat automatically drops four degrees below the customer's preferred operating temperature when the heating is not needed and will only bring the heating system on if the temperature drops below the four degree set back limit. This improves overall response time and reduces the overall running costs of the system.
Heat source
The high thermal output of LoPro10™ makes it an ideal partner for heat pump installations in refurbishment projects where insulation levels have been increased in line with current building regulations.
Condensing boilers are ideal for use with retrofit UFH. As UFH requires a typical flow temperature in retrofit properties of 50°C flow and 40°C return, it can make the best use of a condensing boiler's range, offering a more efficient system than radiators sized traditionally to a design flow temperature of 70/80°C.
"We're not saying that we can wave a magic wand at UFH to make it suitable for every retrofit property," comments Andrew. "Very poorly insulated older properties that require more than 100w/M² are not going to be appropriate. However, where upgrades to wall and loft insulation and double glazing have been made, or for a property that has been built within the last 10 years to the higher insulation requirements of Building Regulations, LoPro10™ can provide a real solution."