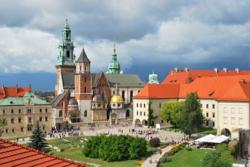 Krakow, Poland (PRWEB) February 21, 2013
Krakow's Historic Centre, the Mine Salt from Wieliczka or the Kalwaria Zebrzydowska Mannerist Architectural and Park Landscape complex are just a few examples of the UNESCO world heritage sites tourists are going to find in Poland. However, most of them are interested in visiting the city of Krakow and are therefore looking for accommodation in Krakow.
As a result of so many businesses going online, more and more people have started to search for Krakow hotels on the world wide web. Otel, a tourism website – part of the international company Met Global – has recently announced new hotel deals for those interested in visiting Krakow. However, the Otel CEO warns their clients that these deals are only available during spring and summer seasons and that, "in order for you to be sure that you are indeed getting the best deal on hotels in Krakow, you will have to book your room (or rooms) two, three and even four months in advance."
Going on, he also warns people about going on a holiday in Krakow during August. As he says, "August is THE busiest tourism month of the whole year. It is the time when most people go on a work leave and take two or three weeks off – again, most of these people choose to spend their time on vacation. I think you already know pretty much about the wealthy heritage of Poland and of Krakow. It only comes naturally that August will bring thousands of tourists to the city. So my advice to you or to any other tourist out there is to make sure that you book Krakow Poland hotels now, while rooms are still available".
Among the hotels which offer discounts for accommodation on Otel.com count Chopin Hotel Cracow, Amadeuse Hotel Krakow and Aparthotel Spatz Krakow. All these three hotels offering professional accommodation services, are situated close to the centre and other touristic attractions in the city. Some of the trademarks of the city that must be visited by every tourist who goes there on holiday are:

The city's historical centre
The Market Square
The Museum of Cracow
About Otel.com
The website belongs to the international tourism company Met Global. Its main focus is centred around the user and/or visitor, as the website's programmers and designers made it possible for people all around the globe to access and book hotels from anywhere in the world.
For example, the website is available in more than 15 languages, among which English, Spanish, French, Hungarian, Portuguese and even Romanian are put at the visitors' disposal. What is more, Otel helps its visitors navigate easier through the website's pages and make an idea about the exact sum they will have to pay: the prices are available in as many currencies as there are languages.
For more information about the latest discounts and offers on hotels all around the world, those interested can access the company's official website, http://www.otel.com/.