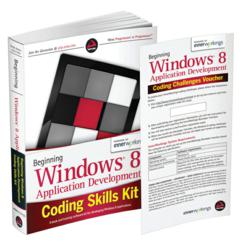 Indianapolis, IN (PRWEB) February 20, 2013
John Wiley and Sons, Inc. today announced the Beginning Windows® 8 Application Development Coding Skills Kit (Wiley, 978-1-1186-1991-9, February 2013, US $189.99), a new book-and-training software kit for developing Windows 8 applications. Created by Wrox and InnerWorkings, this powerful new training product integrates with Visual Studio to provide programmers with an effective hands-on learning environment for developing Windows 8 applications.
The practice-based coding challenges, powered by InnerWorkings, indicate which chapters in the book complement each lesson. As programmers write code in Visual Studio 2012 to solve each challenge, the InnerWorkings patented code-judging engine evaluates the code submitted and provides a score with real-time feedback on each code solution.
The Beginning Windows 8 Application Development Coding Skills Kit offers readers:

In-depth and step-by-step tutorials for building outstanding Windows 8 applications
Practice-based coding challenges with real-time feedback on code solutions
The InnerWorkings coding sandbox that runs in Visual Studio to help programmers practice and learn core development skills
Access to expert Personal Tutors
A personal certificate of achievement each time developers complete 3 hours of validated training
Using this complete coding skills kit, developers will learn how to build stunning Windows 8 apps from start to finish. Beginning Windows® 8 Application Development Coding Skills Kit is now available for purchase online and at retailers nationwide. For a list of retailers or more information about the product, visit http://www.wiley.com/buy/9780470875209.
About Wrox™
Written by actual programmers, Wrox books offer the benefits of real-world experience and road-tested examples that really work. From "Beginning" books that provide a working knowledge of the subject through hands-on lessons that make learning easier than you think to "Professional" and "Expert" books that are loaded with practical, focused information from experts to help developers meet every-day needs and deliver successful projects, Wrox has the resources required at every level. Backed by a global community of developers through the Wrox p2p Forums, programmers gain suggestions and support from authors and fellow programmers. Through innovative and practical resources, Wrox helps programmers get the job done and then do the job better. For more information, visit wrox.com. Wrox is an imprint of Wiley.
About InnerWorkings
InnerWorkings offers a truly "hands-on" learning environment that gives software developers real experience writing code and building applications on new technologies like Windows 8, HTML5, and JavaScript. Our rules-based code judging engine scores each code solution and delivers corrective feedback inside Visual Studio. Expert mentoring and technical guidance is available through our dedicated Personal Tutor service. The InnerWorkings learning platform has delivered validated coding skills to over 200,000 developers and many Fortune 500 corporations worldwide. For more information, visit http://www.innerworkings.com.
###