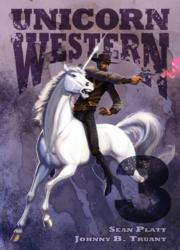 (PRWEB) February 21, 2013
A new breed of genre continues to receive rave reviews from readers, with the third book in the series notching up five top reviews in the two weeks since publication.
Unicorn Western 3, the third novella in an ennealogy of Unicorn Westerns, has received five reviews in the two weeks since it launched on February 5.
All five reviewers give the book, co-authored by Johnny B. Truant and Sean Platt, a top score of five stars.
"We always knew this series would be fun," said Truant. "But we had no idea it would be so popular with readers.
"We started writing it after Sean [Platt]'s usual writing partner, David Wright, dared Sean to write a Western without doing any research.
"Dave joked that without doing any research, Sean would probably put unicorns in the story. With that, the Unicorn Western was born.
"We write it for fun, and I think our readers respond to that."
Reviewers praise Truant and Platt for their goofy concept, "absolutely hilarious" writing, and ability to spin a story from "crazy situations".
"Without question, I was surprised at how much I enjoyed the writing," said reviewer Brian D. Meets. "The writing is top notch and at times seems to hint at Douglas Adams... any fan of westerns will find it to be quite the page turner."
Meanwhile, Kathy Austin said like the first two books in the Unicorn Western series, this installment kept her glued to the page.
"I flew through this book as if I were starving...and in a way I was. [After I] finished the first two [I] couldn't wait for number 3. The humor is insane, the plot thickens with each book and you just have to read another one to find out what happens."
A third reviewer, Ray Nicholson, agrees that the book is a page tuner.
"A good old fashion gunslinger western mixed in with some high magic and some just plain crazy situations... ma[de] for a spell binding mixture that was hard to put down," he wrote.
Sean Platt said reading all the positive reviews "felt great", and added that readers can expect even more thrills, jokes and insanity as the series continues.
"We're planning nine books in the Unicorn Western series, which I'm told makes it an ennealogy," Sean Platt said. "Who knew there was a word for that?"