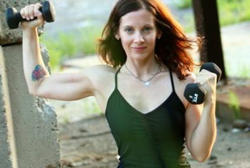 I'm excited about this opportunity to partner with YogaVibes to share my Xen Strength Yoga with Weights classes online.
Charlotte, NC (PRWEB) February 20, 2013
YogaVibes, a leading distributor of online yoga classes, is incredibly thrilled to partner with Danielle Diamond.
For over fifteen years, Danielle has been teaching a strong, unique Vinyasa flow that focuses on alignment and breath to open the body through a creative, transformational sequence. As a fusion of Vinyasa flow with light hand weights, Danielle's Xen Strength Yoga program offers a modern twist on yoga. These action-packed classes are designed to better meet student needs, boost confidence, provide a total-body workout, enhance strength and endurance, and support meaningful results, including a stronger yoga practice.
Danielle has been described as one of a kind. Bobbi Brown, Founder and CEO of Bobbi Brown Cosmetics, describes her uniqueness fittingly:
"She lights up a room and has great energy which is incredibly infectious. Her classes are terrific and her new technique incorporating weights with yoga is genius. She is the perfect combination of both tough and gentle."
Why YogaVibes?
"I'm excited about this opportunity to partner with YogaVibes to share my Xen Strength Yoga with Weights classes online," say Danielle. "I personally love to practice at home, and this is the perfect way to bring my method to students who don't live near a certified Xen Strength teacher."
YogaVibes is equally as excited to share Danielle's special method and offer students around the world the ability to practice Xen Strength Yoga with Weights at home.
To get a taste of this fresh style of yoga, check out Danielle's newest online yoga video: Xen Strength Cardio Challenge.
In this online yoga with weights class, be prepared to work hard and honor proper alignment. Incorporate light weights into a playful online Vinyasa yoga class to experience a cardio challenge that will sculpt, lengthen, and work every muscle group while burning lots of calories! Grab a pair of light weights (3-5 pounds) and get ready to sweat. (41 mins.)
YogaVibes will be launching more Xen Strength Yoga videos with Danielle soon. Stay tuned!
ABOUT DANIELLE DIAMOND
More and more, Danielle noticed her students lifting weights after doing yoga. This inspired her to develop the Xen Strength Yoga program. This program will be featured in the book she is currently writing about yoga and the Zone Diet with Dr. Barry Sears of The Zone Diet fame.
Danielle is honored to have recently been featured in Bobbi Brown's Pretty Powerful campaign and upcoming book, as well as being the featured wellness blogger on Bobbi's blog: http://www.everythingbobbi.com. To learn more about Danielle, Xen Strength Yoga, her DVDs, and teacher trainings, please visit her website at http://www.xenstrength.com.
ABOUT YOGAVIBES
Looking for the best online yoga classes? Look no further! YogaVibes.com is an online realm for high-quality, authentic yoga classes and instructional videos captured in a real studio with real students. YogaVibes offers a diverse selection of online yoga classes from the best yoga teachers in the world, making learning and living yoga easy in everyday life. YogaVibes' mission: To create a supportive, challenging, and welcoming online community of passionate and inspiring yogis.