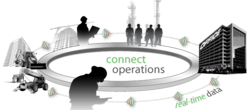 We are pleased to be working closely with the Jonas Construction Software Group... It is always refreshing to work with great organizations like Jonas who continually reinvest in their product, their people, and their partners - Ryan Remkes, AboutTime CEO
Payson, UT (PRWEB) February 21, 2013
The AboutTime system is focused on leveraging Apple Devices, Android smart phones, tablets, and Windows net-books and laptops to collect remote job and project data as it happens in the field. Mike Merrill, AboutTime COO said, "We have spent nearly 10 years working directly with construction companies throughout North America to eliminate paper and inefficient manual processes. We are dedicated to maintain our hard earned reputation as the most powerful mobile data collection solution in the industry and are especially pleased to share the best of our innovations with Jonas customers here in Canada at this event. Our system helps Jonas Customers realize greater value from their Jonas system as they leverage AboutTime to gain visibility of their field operations in real time, every day, no matter where their projects are in the world."
Ryan Remkes, AboutTime CEO stated, "We are pleased to be working closely with the Jonas Construction Software Group and have the opportunity to be a part of this important annual event. With our strong partnership and integration capabilities, we feel AboutTime will help Jonas clients super-charge their existing Jonas solutions. It is always refreshing to work with great organizations like Jonas who continually reinvest in their product, their people, and their partners."
AboutTime Technologies is the leader in mobile time and attendance systems. The company specializes in tracking mobile employees and their production via GPS, biometric fingerprint recognition, proprietary sync technologies and other cutting-edge technological services. AboutTime's clients typically see a 15% reduction in overall payroll costs.
About AboutTime Technologies:
AboutTime Technologies provides real-time remote data collection for companies in the construction and services industries including General Contracting, concrete, masonry, roofing, drywall and plastering, mechanical, restoration, heavy highway, oil and gas, mining, energy, steel, and other industry verticals that employ large numbers of mobile employees. AboutTime helps companies with mobile field employees improve productivity and streamline manual processes, leading to increased profitability and extreme proficiencies. AboutTime accomplishes this by leveraging today's most innovative mobile technologies allowing customers the ability to lower operational costs, accelerate critical business initiatives, and improve the process of accurately collecting field data through a variety of project management, mobile labor tracking and job costing software solutions.
About Jonas Construction Software:
Founded in 1990, Jonas Construction Software, part of the Constellation Software Group, is a leading provider of integrated construction software solutions to the North American Construction and Service Contractor markets. Our solutions are used by over 1000 specialty and general contractors to improve efficiency and drive revenue. Jonas has over 40 fully integrated modules to help contractors reach their business goals.
For more information on Jonas contact:
Christine Gemmell, Director of Marketing
Christine.gemmell(at)jonassoftware(dot)com or visit http://www.jonas-construction.com
Tel: 1-800-352-6647