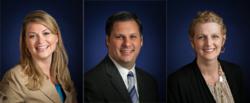 This is a living and breathing reorganization that is happening in real-time. It's a transition that's not going to happen all at once. But at the end of the day, this is going to serve the company well; it's going to take us into the future. -Ray Apy
Clifton Park, NY (PRWEB) February 19, 2013
Annese & Associates, Inc. is pleased to announce the promotions of three management-level employees to newly created leadership positions as a result of a strategic reorganization toward a service-led business model. Each of these employees will report directly to Ray Apy, President & CEO.
Kara Rudy has been promoted from the position of Marketing Manager to Director of Marketing. Kara has been with Annese since 2006. In this new role, Kara will be responsible for developing and executing a clearly defined marketing and communications strategy in a manner that drives business growth, enhances the company brand, and is in direct alignment with the corporate business strategy.
Ray Apy offered this statement about Kara:
"Kara Rudy began as a Marketing Coordinator with Annese. When she first joined, she had a couple years of experience and during her time here, it has been a great pleasure to watch her professional development as she has applied her experiences to the job. I am very honored to present Kara the opportunity in 2013 to take on a director level responsibility in marketing and I know that she will help me build this company and take it to the next level."
Kara is a graduate of St. John Fisher College in Rochester, NY. She works in Annese's Syracuse office.
Jamie Aiello has been promoted from the position of Director of Operations and Business Development to Vice President of Services. Jamie has been with Annese since 2007. In this new role, Jamie will be responsible for continuously developing, deploying, and managing service resources in alignment with the corporation's business strategy and goals while maintaining exceptionally high client satisfaction ratings.
Ray offered this statement about Jamie:
"Jamie began his career with Annese as a Manager for Information Technology. In short order, Jamie showed us that his skill-set far exceeds the parameters of IT Management. Over the past couple years, Jamie has worked as an Operations Director, responsible for IT, Contracts, and Services. I am very proud of Jamie and very happy to have selected him as the Vice President of Services and an officer within the company to focus on and run the entire service operation and to help me build out our client service offerings and revenues which are vital components to our new business strategy and future success."
Jamie is a graduate of Le Moyne College in Syracuse, NY. He works in Annese's Syracuse office.
Maura Peddle has been promoted from the position of Executive Assistant to Chief of Staff. Maura has been with Annese since 2010. In her new role, Maura will be responsible for planning and directing administrative, financial, key client engagement, key business partner engagement, and operational activities for the President & CEO. Maura will acts as a point of contact between top management and employees and provides oversight and guidance to projects of high importance.
Ray offered this statement about Maura:
"Maura Peddle has been with us for over two years now and began with us as an Executive Assistant to myself and the leadership team. During that time, she's had the opportunity to engage deeply in nearly every aspect of our business and she has shown tremendous capability in strategy, organization, and planning. She understands business and marketing on an executive level, and I am very pleased to recognize her skills and achievements by promoting her to the position of Chief of Staff for our Leadership Team."
Maura is a graduate of Iona College in New Rochelle, NY. She works in Annese's Chester office.
About Annese & Associates, Inc.
Expertise. Relationships. Innovation. Throughout the past four decades, these principles have established the foundation upon which Annese & Associates has emerged as the trusted adviser to our customers, partners, and communities. With a full-circle approach to integrating communications systems, Annese wraps professional and managed services around Collaboration and Data Center Virtualization solutions. Guided by our services methodology, we design an end-to-end IT experience for our clients, implementing the tools of today and administering a plan for tomorrow. Our business is the art, science, and passion of connecting devices to networks, people to people, and ideas to action.
# # #