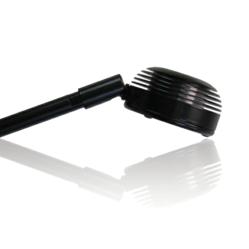 As longtime participants of this trade show, it's a personal honor to have our SL-3100 selected
Fremont, OH (PRWEB) February 26, 2013
EXHIBITOR2013's New Product Showcase will feature Light Craft Manufacturing's revolutionary new stem light, the SL-3100. Each year, the showcase selects the most promising products and services for this elite opportunity, which also nominates them for the Buyers Choice Award. In its 25th year of operation, Exhibitor Magazine hosts a world conference and exhibition for trade show and corporate event marketers.
"As longtime participants of this trade show, it's a personal honor to have our SL-3100 selected," says Director of Sales & Marketing for Light Craft Manufacturing, Brandon Wright. "We've been working so diligently on this because we knew the marketplace needed it. For many years we have been noticing the only new lighting products that were being introduced were being imported, and weren't of the best quality."
The design of the SL-3100 makes it a perfect candidate for the Buyers Choice Award because it is new and innovative for many reasons. There is literally no other LED stem light fixture like it on the market. American made, and designed to not only look new and attractive, but to be extremely practical, the SL-3100 is designed to run with maximum energy efficiency and optimal color consistency. This is accomplished by CNC machining the aluminum creating ventilation fins and maximizing surface area.
A few of the SL-3100s features the judges are sure to notice include:

The true optimal color rendition for graphics and images trying to be highlighted.
Its extreme durability, which means buyers will never buy a replacement light bulb again.
At 25,000 hours it will still have 70% of its original light output.
The EXHIBITOR2013 event offers thousands of attendees more than 200 comprehensive sessions covering seven critical learning tracks. The sessions are taught by our faculty of more than 145 industry experts who complete mandatory Speaker Training. EXHIBITOR also offers the only professional certification program with academic university affiliation. More than 3000 industry professionals currently are enrolled in the Certified Trade Show Marketer (CTSM) program.
About Light Craft:
Light Craft Manufacturing, Inc. is a family owned and operated business that has been dedicated to providing the tradeshow and exhibit industry with quality, reliable lighting since 1987. Light Craft offers a wide selection of stock lighting solutions that include stem lighting, back lighting, track lighting, and recessed lighting. Light Craft also carries LED solutions to help customers become environmentally friendly exhibitors. Along with stock solutions, Light Craft continues to pride itself on custom capabilities that will provide the perfect lighting solution for any unique exhibit design. As a company, they are able to provide all of these solutions at highly competitive pricing and the fastest turnaround time in the industry, as many orders ship the same day they are received. Light Craft's commitment to building trustworthy and outstanding customer service relationships is second to none in the industry. For more information, please visit http://www.lightcraftmfg.com or call (800)772-3152.