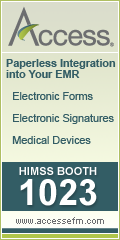 With Access solutions, we're more efficient in the short term and we'll be better prepared for integrating data with nationwide electronic health information systems. Access is helping us prepare for the future.
Sulphur Springs, Texas (PRWEB) February 20, 2013
Mid-Valley Hospital decided to implement Meditech Scanning and Archiving to better manage its patient-related documents in conjunction with Meditech Magic. However, getting pre-printed patient forms into EHRs would require time-consuming and error-prone scanning and manual indexing, hampering the efficiency of admissions, nursing and HIM staff and costing the facility money. To overcome this challenge, Mid-Valley selected an e-forms on demand and electronic patient signature solution from Access.
"To make our Meditech Scanning and Archiving project a success, we can't waste the HIM team's time with manually processing patient forms," said Kathie Brown, informatics registered nurse (RN) at Mid-Valley. "The Access system removes labeling errors, and with the form and patient IDs on each form, we know they're in the right place in the correct chart every time."
Another forms-related challenge Mid-Valley faced was version control. Old iterations of forms could be stashed in nurses' lockers, at carts and workstations or in file cabinets, and as some of these could be photocopies, legibility was also an issue. With the Access electronic forms library, only new forms are available as needed in registration and clinical areas, with no duplication needed.
"With the Access solution, we know that nurses are generating up-to-date forms from one place," Brown said. "All the forms are pristine and legible, which enables us to capture consistent and usable patient information."
The Access Meditech Magic Compatibility Module will transform how registration clerks, nurses and HIM staff members process forms. Before, a clerk or nurse would rely on their own expertise to select the required forms for each patient, who would fill them out by hand — including redundant demographics on each form — and then apply a wet signature. The forms would then be filed or scanned and indexed, and copies made for the patient.
Now, once a patient is registered in Meditech Magic, the staff member will click a button and the Access system dynamically generates a forms packet customized to the patient, with form and patient account IDs automatically applied and patient demographics pulled from Meditech.
The patient then completes the remaining fields and applies a secure electronic signature using a Wacom signature tablet. The forms are then integrated into the patient's EHR via integration with Meditech SCA. If the patient requests a copy, it is easily generated. But they don't, no paper is required.
"Access e-forms and electronic patient signature technologies enable us to create a paperless forms management process," Brown said. "With a click of a button, users get all the forms they need directly from Meditech Magic, instead of having to remember which ones go with which patients."
"We've reduced labor costs in HIM, and will also see time and paper savings in obstetrics, admitting, radiology and any other department that has forms," added Tom Richardson, network support analyst at Mid-Valley. "We're creating defined and repeatable forms processes, which leads to greater efficiency."
The leadership team at Mid-Valley believes that partnering with Access stands the hospital in good stead to face the ever-changing world of healthcare IT.
"With Access solutions, we're more efficient in the short term and we'll be better prepared for integrating data with nationwide electronic health information systems," said Mid-Valley CEO Michael Billing. "Access is helping us prepare for the future."
About Mid-Valley Hospital
Mid-Valley Hospital is truly a local hospital. We live and work here, make our business decisions here and are invested in this community's health and success. We don't just name our facilities after nearby towns; we have a deep foundation in Omak and have been a pillar in this community long before others arrived. We value the personal relationships we've built and continue to grow. You'll recognize familiar faces in our staff, physicians and patients. Learn more at http://www.mvhealth.org/
About Access
Hundreds of hospitals worldwide use Access solutions to integrate e-forms, electronic patient signatures and clinical data into EHRs without paper or user effort. Access solutions improve patient care and safety, cut costs and enhance electronic health records (EHR), patient safety and downtime planning initiatives. Learn more at http://www.accessefm.com and get on the road to paperless at HIMSS Booth 1023.