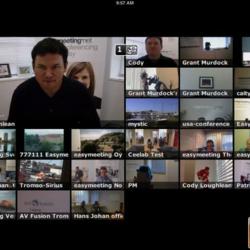 The Easymeeting.net services allow for a flexible and interoperable solution that customers are demanding.
Mystic, Conn. (PRWEB) February 26, 2013
This strategic partnership allows for a greater reach in Easymeeting.net's sales efforts as well as adds value to the offerings of the Nevada based company can present to their customers. PVC founded by John Killcommons and Randy Marcotte, offers traditional HD Video sales and integration services, but also offers cloud, managed and customized approaches to HD Video deployments. Both companies want to provide their end users with quality and perfect video conferences, allowing businesses to be more efficient and productive.
When asked why PVC chose to partner with Easymeeting.net, founder Randy Marcotte responded "Easymeeting.net fits a gap in our service portfolio by offering a truly cloud offer, not hosted in the PVC ecosystem or in the customer's data center. The pricing is aggressive, simple and scales as the customer grows. The Easymeeting.net services allow for a flexible and interoperable solution that customers are demanding. The Easymeeting.net support center helps PVC focus on our core business while providing an immersive experience at fixed, reasonable costs."
Easymeeting's V.P. of Business Development, Cody Loughlean also comments on the new partnership, "Perfect Video conferencing believes the same core values as Easymeeting.net; video conferencing should be easy, scalable and affordable. We look forward to working with the PVC team and building a lasting relationship between the two companies. In addition, they target the customers we cater to and we are excited to introduce our services to their existing and new customers." He adds, "We anticipate a successful future with PVC."
Randy Marcotte acknowledges the market demand for Video Conferencing as a Service through Easymeeting. Randy says, "The demand for multi-party video is growing and many customers do not have the infrastructure to accommodate these needs, nor the budget. This partnership will allow customers to support mobile video, end-point agnostic calls, standards based high density bridging, and recording and streaming services."
Launched in 2006 in Norway, Easymeeting.net has continued to grow and is now covering the US market with several strategically chosen channel partners in different regions. Easymeeting.net can deliver affordable, easy to use, video conferencing so that small and large businesses can both have an easy, practical way to communicate with contacts, customers and partners all over the world. PVC's vast network of partners, depth and years of experience is the perfect match for Easymeeting.net's ability to provide connectivity between traditional video conferencing systems, PC's, Mac's, Tablets and smartphones to collaborate in multi-participant video meetings.
Both parties are looking forward to the new partnership.
For more information on Perfect Video Conferencing
Randy N. Marcotte, Director of Sales
randy(at)perfectvc.com
516-282-2812
http://perfectvc.com
For more information on Easymeeting.net
Cody Loughlean, V.P.of Business Development -Americas
855-299-3279
cody(at)easymeeting.net
http://www.easymeeting.net