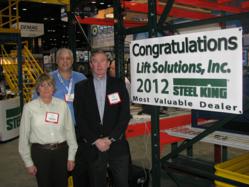 Stevens Point, WI (PRWEB) February 21, 2013
Steel King Industries Inc., the industry's leader in providing quality material handling solutions, announces Lift Solutions, Inc., of Omaha, NE, as the winner of the 2012 Steel King Most Valuable Dealer (MVD) Award.
As Steel King's 2012 Most Valuable Dealer, Steel King's President Jay Anderson had this to say on Lift Solutions' accomplishment, "I am pleased to recognize Lift Solutions, Inc. (LSI) on achieving the Steel King Industries' Most Valuable Dealer for 2012. This award recognizes not only sales success, but the total effort to achieve market penetration on the local level. LSI has been a Steel King dealer since 2004, and has been a top selling dealer for four straight years. LSI demonstrated their industry knowledge by applying fourteen different Steel King products as solutions to varying customer needs. LSI not only forecasted an aggressive plan for 2012 of nearly doubling their sales of Steel King products, but they exceeded that forecast by ten percent. Growth like this doesn't happen by accident; LSI's marketing efforts included submission of case study material, which we were able to get published to communicate our ability to solve customer challenges working as a team. We congratulate LSI and appreciate our partnership."
Lift Solutions Sales Manager Brian Drelicharz had this to say about winning the award, "We at Lift Solutions, Inc. are honored to be named Steel King's Most Valuable Dealer for 2012. This accomplishment is a culmination between the hard work of our sales staff, Steel King's great product offerings, and Steel King's customer service driven people." That was followed up by Lift Solutions President Steve Buehler saying, "We really value our partnership with Steel King. They mirror our core values and are a perfect complement to some of our other quality products such as Crown and Nissan forklifts. We appreciate their responsiveness and willingness to work with our sales team."
This is the first time Lift Solutions, Inc. has been awarded Steel King's Most Valuable Dealer award and we congratulate them on this outstanding achievement.
Since 1970, Steel King Industries has manufactured a full‐line of material handling products, including selective pallet racks, dynamic flow storage systems, cantilever racks, portable racks, and custom shipping racks, along with industrial steel containers and guard railing. Innovation, customization and design strength has earned Steel King the reputation as a leader in the material handling marketplace. For more information, call Steel King at (800) 826‐0203 or visit them on line at http://www.steelking.com.