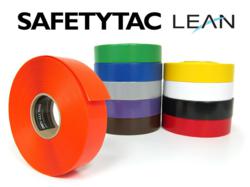 "This tape is much thinner and not as industrial looking as other tape. It looks great in our office entryway and has remained stuck to the floor. We love it!"
Lake Oswego, OR (PRWEB) February 25, 2013
SafetyTac Lean floor tape is the ultimate floor tape for moderate traffic facilities. It is great for office workplaces and small industrial companies that don't have a lot of high forklift traffic. SafetyTac lean floor tape has a thinner, lower profile than the standard industrial SafetyTac floor tape but also comes with a strong clear rubber based adhesive that is as strong as the industrial strength floor tape and is a lot stronger than other vinyl tape. SafetyTac Lean floor tape is now being offered through Facilityfloormarking.com and is available in ten colors and three sizes in 2 inch, 3 inch and 4 inch widths.
Offices and small industrial facilities often require dollies or mail carts to move throughout the workplace and the thin profile and double edged floor tape allows these types of carts and traffic to glide over it like it's not even there. The tape is ideal in these scenarios to use for marking off aisles or pathways for workers and visitors so they stay on course and don't go off into a potential dangerous zone area. Work stations can be designed with the lean floor tape instead of installing actual cubicle walls when the work area needs to be open and free flowing. Office furniture can be easily positioned within the tape markings making each easy to design for everyone's personal work habits.
The SafetyTac lean tape is ideal for a business that require pedestrians to follow a path to counters such as post offices, DVS and Social Service to name a few. Pedestrians will know exactly where to go by following the path of the tape. Customers will not be confused and conducting business will run much smoother. An employee of a small business commented, "This tape is much thinner and not as industrial looking as other tape. It looks great in our office entryway and has remained stuck to the floor. We love it!"
For more information about SafetyTac Lean Floor Tape, please visit http://www.facilityfloormarking.com/ or call toll-free (866)777-1360 to speak with a professional representative.