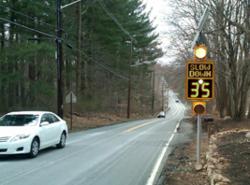 The management software is the easiest we've encountered.
Langley, BC (PRWEB) February 19, 2013
The Township of Langley, BC installs speed display signs at different locations where speeding is a concern. Already accustomed to signs from other manufacturers, they decided to try the Traffic Logix SafePace 600 speed sign to see how it compares. Two months after the sign's installation, it seems to have passed the test.
The SafePace 600 is a variable message sign that displays drivers speed with two lines of fully customizable LEDs that can display the text, graphics, or animation of your choice. The sign can be programmed to change messages based on driver behavior or daily schedules. It includes user-friendly management software that lets you set sign parameters such as speed display range, strobe flashing threshold, and messages displayed quickly and easily. The sign also includes an optional data collection package that provides detailed traffic data and reports for analysis.
Jerry Halldorson, the Electronics Technologist for Langley, said that what drew them to try the SafePace 600 sign initially was the flexibility of the variable message options as well as the convenience of the one-package sign, which includes all sign components in one box instead of the multiple boxes many signs include.
The SafePace 600 speed sign was installed on 56th Ave, where there's a sharp turn going down a hill and people tend to speed as they drive down.
"We did a traffic study in stealth mode for a couple weeks before activating the sign," said Mr. Halldorson. "We haven't collected the post data yet, but based on feedback we've gotten, it certainly seems to be doing its job."
Stealth mode is a feature included with every Traffic Logix sign that lets you leave the sign face off while still collecting traffic data, which can be useful in assessing how the signs affect driver behavior.
How did the SafePace 600 speed sign compare to the others Langley has used?
"The management software is the easiest we've encountered," said Mr. Halldorson. "It's streamlined, well-designed, and easy to use. The data collection feature offers a wealth of traffic information for us to work with. And the signs were the simplest to install of any others we've used."
For the Township of Langley, it looks like the SafePace 600 speed sign makes the cut.