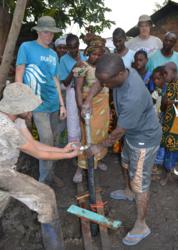 "As part of Axia's corporate social responsibility, our public relations firm wanted to help Water For All Nations solve this great worldwide need," said Jason Mudd, chief executive of Axia Public Relations.
(PRWEB) February 21, 2013
Water For All Nations now accepts online donations for creating worldwide clean water solutions, thanks to a financial gift from the Axia Public Relations firm.
According to the World Health Organization, more than 3 million people – 1.5 million of them under the age of 5 – die each year from issues related to a lack of available clean water.
Nearly 1 billion people worldwide lack access to safe water and 2.5 billion need improved water and sanitation. The World Bank estimates that by 2035, 3 billion people who currently live in areas with severe water scarcity – especially Africa, the Middle East or South Asia – will not have access to safe water.
"As part of Axia's corporate social responsibility, our public relations firm wanted to help Water For All Nations solve this great worldwide need," said Jason Mudd, chief executive of Axia Public Relations. "People must have clean water to live and thrive. We are pleased to take our first step toward helping Water For All Nations and 1 billion people worldwide."
Water For All Nations is a non-profit organization that partners with developing nations to create clean water solutions. The new online tools will make online donations easy to manage for the charity and will simplify the process for donors.
"The donation system we selected securely collects funds online and generates automated reports and contribution statements, saving our organization hundreds of hours in accounting and administration labor," said Ryan Winter, vice president of operations for Water for All Nations. "We asked Axia for its financial support for this investment and they quickly granted our specific request."
There are two big issues when it comes to water: access and sanitation. Water for All Nations believes the key to solving global water-related issues is a combination of providing clean-water wells and teaching local communities methods for sustainability. Teaching community members how to maintain the wells and setting them up with a system of leadership that involves responsibility reduces the chances that the well will break down or be rendered unusable due to theft or territorial disputes.
To make a donation to Water for All Nations on its new system today, go to http://www.waterforallnations.org/ and click on "Donate."
About Water For All Nations
Water for All Nations is a 501(c)3 non-profit, charitable organization based in the U.S. that believes everyone on Earth should be free to live life without worrying about where clean water will come from. Water for All Nations works with individuals, community leaders, businesses and other non-profit organizations in the U.S. and abroad to create clean water solutions tailored to meet the specific needs of people in developing nations on a case-by-case basis. Currently, its vision includes teaching families in rural communities how to dig and maintain their own inexpensive, shallow wells, drilling deep wells to help small business owners sell clean water in peri-urban areas, fostering value-oriented business practices and networking with other businesses and organizations to provide as many sustainable resources as possible to people in need. All of this is based on one principle: People must have clean water to live.
About Axia Public Relations
Axia Public Relations is a public relations firm specializing in regional and national campaigns designed to drive new customers to and increase revenue for its clients. In Greek, the word axia (ak-see-a) means worthy or having value. Axia Public Relations' services and award-winning programs include brand and product media relations, digital PR, social media, crisis management, reputation management, corporate communications, spokesperson training, thought leadership and speaking engagements as well as award and recognition programs. The firm's accolades include earning Florida's top PR award, the Florida Public Relations Association's Dick Pope All-Florida Golden Image Award; PRWeek's Rising Stars of PR; Best Places to Work; and two nominations for the Edward Lowe Foundation's Florida Companies to Watch. For more information, contact Axia Public Relations by phone at 888-PR-FIRM-8 (888-773-4768) and online at http://www.axiapr.com.
###
For additional information, interview and image requests, contact the public relations firm at 888-773-4768, ext. 700.