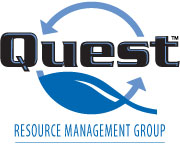 Frisco, TX (PRWEB) February 20, 2013
In 2012, Quest expanded its service offerings and grew operations above expectations. Since its inception in 2007, Quest has posted year-over-year revenue growth. As a result of this momentum, the company changed its name from Quest Recycling to Quest Resource Management Group, to reflect the new offerings of a full service environmental consulting and management company.
In addition to recycling services, Quest now offers sustainability solutions to clients, such as: LEED® certification project management, energy modeling and carbon footprint reporting. Since acquiring Sustainable Partners in April 2012, Quest has assisted clients in the completion of five LEED® certified buildings, including two international projects in Canada and Mexico. Quest's commitment to participating in effective and responsible environmental solutions has created a 360° sustainability effort that is becoming the new standard for business.
Brian Dick, CEO of Quest Resource Management Group said, "Quest's growth and success over the last year shows the hard work and dedication our employees have put into ensuring each client receives the best possible service for their recycling and sustainability needs. This level of commitment is recognized by our clients and partners in each service call, report and site audit making us an industry leader."
In 2012, Quest welcomed new clients from various industries including: shipping and logistics, retail, distribution centers, multifamily developments, manufacturing and telecommunications -bringing the total number of client locations under management to over 12,300 across North America. In addition, Quest has introduced expanded service offerings that accelerate their client's path to zero waste.
Quest's success in 2012 generated substantial recognition including:
*Business of the Year, the City of Frisco Chamber of Commerce
*#6 fastest-growing, privately held companies, Southern Methodist University Dallas 100 List
*Top 34 Recycling Companies, Waste and Recycling News
*Ranked #928 in the national Top 5,000 fastest growing companies, Inc. magazine
*Ranked #6 in the national Top 100 environmental services companies, Inc. magazine
*2012 Supplier Sustainability Award, AT&T
About Quest
Quest Resource Management Group is a full service environmental consulting and management company, headquartered in Frisco, Texas. Quest helps Fortune 500 companies to maximize profits and mitigate risks, while minimizing their ecological footprints. Quest clients span across all key industry segments, including food services, hospitality, healthcare, manufacturing, construction, automotive aftermarket and fleet industries. Quest Resource Management Group provides North American clients with comprehensive sustainability programs, innovative recycling solutions and proven environmental protection.
Quest prides itself in delivering targeted solutions exclusively tailored to the needs of each respective client. Quest also offers Return on Investment (ROI) and Return on Sustainability (ROS) based road maps to help clients design actionable programs for managing RFPs, defining operational protocols, creating and implementing training programs, and defining best practices. Quest's Sustainability Intelligence Dashboard™ helps clients improve decision making by extracting greater insights through unsurpassed business intelligence.
###