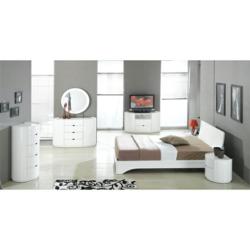 (PRWEB UK) 22 February 2013
Since FurnitureInFashion first opened and began creating furniture in variety of designs and contemporary styles, they continually offered innovative and contemporary designs and options. The latest release in the bedroom furniture offered by FurnitureInFashion is the Lorna white gloss bedroom set. Lorna bedroom furniture range offers unique design blended with modern twist.
Combining white color with gloss finish, Lorna bedroom furniture range is a beautiful addition to existing bedroom furniture catalogue of FurnitureInFashion. The Lorna range offers spectacular sleek designs along with ample storage space for a bedroom. This blend of storage, modern style and strength is a hallmark of true FurnitureInFashion construction.
FurnitureInFashion is one of the leading suppliers of dining room furniture, hallway furniture and living room furniture. The company is investing in beautiful furniture ranges for bedroom as well in order to provide complete bedroom solution. The CEO and Managing Director of FurnitureInFashion Asad Shamim said, "Lorna bedroom furniture range is another beautiful launch for our customers. We have combined the beautiful white furniture range with gloss finish in order to provide luxurious and contemporary ambiance in bedrooms. We have incorporated storage furniture in this range as well in order to allow homeowners to enjoy maximum space in their bedrooms without cluttering with heavy and excessive furniture items."
Lorna white gloss bedroom furniture range includes beside white gloss beside cabinet, white gloss double bed, ventilated board, plasma/LCD TV unit, drawer chest and dressing table with mirror. Lorna range offers 2 white gloss bedside cabinets. The stunning Lorna bedside cabinet comes in a unique shape and has 2 drawers. The four drawers of the two beside cabinets can be used to store anything in order to keep the bedroom free of clutter. The Lorna range offers white gloss double bed with ventilated board. This stylish double bed has a stunning and fabulous modern design. It has a strong frame and low foot end made of high quality material to ensure maximum support and comfort. Mr. Asad said, "It is a trendy furniture piece to make any room more pleasing to the eye. Sitting or sleeping, this bed is a comfortable treat for all."
FurnitureInFashion has given a unique touch to bedroom furniture set by adding a white gloss Plasma/LCD TV unit in its Lorna range. Stunning Lorna white gloss flat screen TV stand is available in white finish. It has two drawers with stylish handles in a unique finish with ample storage space. There are two curvy doors on both sides of the unit for storage space inside with one shelf as well. This TV stand is suitable for LCD Plasma and flat screen TVs. There is an open shelf in this TV stand where homeowners can display their entertainment equipments as well.
Lorna white gloss bedroom furniture range also offers drawer dressing table with mirror. The dressing table has 4 drawers that can store any amount of accessories and bedroom equipments. the four wide drawers have unique handles with ample storage space. Quality material has been used to construct this beautiful piece. The Lorna bedroom furniture range also offers 5 drawer chest in a stunning and stylish design. Elegant white color looks great and can match with any room setting. Five wide drawers of this chest can cater all storage needs. It has been coated with a protective lacquer to guard against splintering. FurnitureInFashion offers several other bedroom furniture sets and bedroom furniture collections.
About FurnitureInFashion
FurnitureInFashion is a UK based online retail business. It supplies furniture items from its German based warehouse and has a showroom in Bolton, UK. The company provides everything from umbrella stand wall art and room dividers to bedroom, bar stools and computer tables. FurnitureInFashion offers excellent free delivery within UK and has a fantastic customer service as well. For further information and details about the sale, visit http://www.furnitureinfashion.net