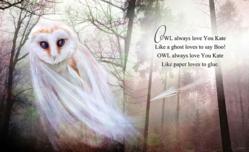 flattenme is excited to participate in Jewels and Pinstripes celebrity gift bags with its new personalized book 'Owl Always Love You' - Margo Redfern, flattenme CEO
Truckee, CA (PRWEB) February 20, 2013
When a product is one of the 'hot topics' on the top morning talk show 'The View' or Today Show, it has obviously hit the A-List. Now all of America knows about the flattenme line of children's personalized books. The audience loved it when good sport Barbara Walters was featured as a fairy in one of the flattenme children's personalized books.
A flattenme custom book is more than another book to be outgrown. The unique storyline and fantastic illustrations would make it spectacular on its own merits, but, when the child's own name and face are used as the integral focus, it becomes a keepsake gift to treasure forever.
Flattenme's latest book about to hit the scene, Owl Always Love You, and a gift card for flattenme's new line of flattenme personalized shirts for older sibs will be included in each celebrity VIP gift bag. The gift bags are distributed each month by Jewels and Pinstripes, Inc. Each famous parent receives a gift bag when their baby celebrates their first birthday.
Only premier quality children's products can be tucked into these exclusive gift bags. The elite gift personalized for kids from flattenme joins top quality products such as Stride Rite Vroomz Racecar Shoes and the Wubbanub™ Giraffe Pacifier. Nothing but the best are 'in the bag.'
For sure, not every mommy gets the gift bag, but, her baby can still wear enjoy flattenme's new personalized book, Owl Always Love You, and a trendy custom shirt from flattenme. Coming soon at flattenme.com.
###
Flattenme is quite possibly one of the most magical personalized gift companies on the planet. Flattenme has been highlighted on Today Show, The Early Show and chosen for Oprah's Gift Guide as a 'hot gift to give'. Learn more at http://www.flattenme.com.