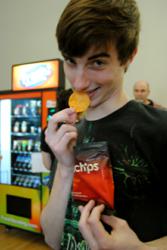 BALTIMORE (PRWEB) February 20, 2013
The USDA is working on amending The Federal Healthy, Hunger-Free Kids Act of 2010 with proposed new rules that will effect vending machine food options available to students in schools. The current 160-page document is accessible for public comment. It outlines the standards for sodium, sugar and calorie levels acceptable in the food products, as well as beverage and portion sizes, limits on caffeine, location of machines and frequency of sales to students.
The report states: These proposed changes are intended to improve the health and well- being of the Nation's children, increase consumption of healthful foods during the school day and create an environment that reinforces the development of healthy eating habits. The new choices will meet standards for calories, fat, saturated fat, sugar, and sodium, and have whole grains, low fat dairy, fruits, vegetables, or protein foods as their main ingredients... such nutrition standards apply to all foods sold outside the school meal programs; on the school campus; and at any time during the school day.
Baltimore Fresh Healthy Vending Franchisee L.A. Brickner is loving the recent USDA attention. "When starting this business, I was greeted with confusion when I mentioned the words healthy vending." Now it's in the news daily, "Healthy vending is becoming a priority for many local governments, schools and businesses, it's a simple way to encourage a healthier lifestyle and introduce students and employees to alternatives to junk food", Says Brickner. She should know, she operates her vending machines in the Baltimore City Public Schools amongst other businesses in the area.
Providing a range of products that already meet and exceed the USDA standards is what Fresh Healthy Vending offers, so schools that make the leap to the new machines and the healthy choices are provided a program that is turn-key in every respect.
School of Rock in Baltimore is one school that has taken the initiative and installed these healthy vending machines. They operate an after-school program from 3pm to 9p.m. and students are often ready for something to satisfy their hunger once class is over for the day. The school General Manager, Melody Easton, is completely on board, "It's fantastic to be able to offer students healthy snack options. Fresh Healthy Vending gives a great alternative to average vending machine fare," she noted.
Officer Lawrence E. Smith Jr., head football coach and member of the Baltimore City School Police, has seen the kids adjust to the healthier fare in Fresh's vending machines, "We have 900 kids here at the high school, they love the new choices, the 3 machines need to be refilled every 2 days or so. We thought it might be a rough transition to the healthier foods, but they've adjusted and love all the products."
The Fresh Healthy Vending machines in Baltimore City Public Schools are some of the thousands of vending locations throughout the country offering healthier snack food and beverage choices. Keeping minds and bodies in better shape are part of the directives for Fresh Healthy Vending, the first and largest franchisor of healthy vending machines. Fresh Healthy Vending's quest is to help Americans become healthier by providing more nutritious and wholesome snacks and drinks purchased through vending machines. Experts at creating profitable vending businesses for franchisees, they also offer the Fresh Healthy Vending Café machine, this unique vending machine dispenses gourmet, organic coffee drinks together with signature healthy snack options.
For more information on becoming a Fresh Healthy Vending franchisee in your area, please visit our website at http://www.freshvending.com Or call 888-902-7558
And if you're interested in bringing a Fresh Healthy Vending Snack/Drink or Gourmet Coffee Café machine to your community, visit us at http://www.freshandhealthy.org