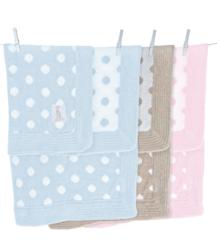 Little Giraffe Luxurious Dolce Dot Blanket
West Des Moines, IA (PRWEB) February 20, 2013
Bliss Baby & Maternity is proud to introduce Little Giraffe products. Little Giraffe products are the most luxurious, exclusive, and hassle-free children's accessories on the market. The company's unique; easy-care collections have delighted style makers and discerning parents with a signature blend of comfort, quality, and convenience. Little Giraffe has become known for creating the coziest, and most luxurious, yet practical, blankets, blankys, and accessories available for babies.
Parents everywhere have fallen in love with Little Giraffe's incredibly soft, ultra-plush machine-washable products. Many of Hollywood's most well-known moms & dads, such as Brad Pitt & Angelina Jolie, Gwen Stefani, Katie Holmes, Salma Hayek, Halle Berry, Nicole Richie, Rebecca Gayheart, and Jessica Alba, have all welcomed home their newborns with Little Giraffe's Chenille & Luxe collections and Little G, the stuffed Giraffe, is a popular stuffed toy as well.
Some of the most popular collection is the Chenille Baby Blanket, the Bella Blanket, the Luxe Blanket, and the Dolce Blanket. The Plush Bundle is also very popular with a Little G stuffed giraffe, a Little G Rattle, and Little G Blanky bundled all together.
The products were created out of a demand that parents wanted which consisted of quality and luxurious products. These blankets are made of quality materials that any child would love to cuddle with.
Little Giraffe's current collection continues to provides quality craftsmanship and exclusive materials that have defined the products from the very beginning. These products are sumptuously soft and easy to care for so much that customers have fallen in love with over the last decade.
These products make wonderful new baby gifts, baby shower gifts, or an addition to the baby nursery that any child is sure to approve of.
We extend an invitation to indulge in the cozy and plush collections little ones will enjoy see why Little Giraffe is Love! ♥
Please visit http://www.blissbabyandmaternity.com and if you enter code LITTLEG at checkout, you will receive a 10% discount.