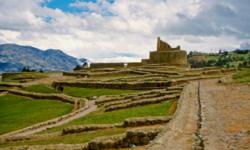 Travellers interested in learning about the Incan Empire or cultural and historic sites, have to seek for other destinations!
(PRWEB) February 21, 2013
The famous Inca Trail that can be trekked for four days with the final destination of Machu Picchu is fully closed during the month of February due to maintenance work in order to sustain the world famous path. This means that travellers interested in learning about the Incan Empire, or people that are culturally and historically interested, have to seek other destinations when travelling within South America during this time. So why not think about a visit to Ecuador?
Ecuador, and therefore Gulliver Expeditions, has a lot to offer in terms of historically and culturally interesting sites that may be of special interest to travellers seeking for a holiday that is rich on cultural and historical experiences.
Close to Cuenca, Ecuador's third biggest city, lies, located in the province of Cañar, an Inca site named Ingapirca. When in the 15th century Incan leaders began to expand their empire from the area around Cuzco in Peru, north toward Ecuador, they left this notable Incan mark in the province of Cañar.
Besides Ingapirca, there are a couple of other historic sites that date back to the Incan Empire. Pucara El Salitre, for example, is located in the south-eastern part of the Cotopaxi National Park, in close vicinity to the mighty, active, snow-capped and climbable volcano Cotopaxi. Pucara El Salitre served as an Incan military base from which the surroundings were monitored for armies or resistance groups. The remains of the buildings can be visited today within the national park.
Another interesting pre-Incan site to be visited within Ecuador is Cochasqui. It is located between Quito, the capital, and Otavalo which home of South America's biggest indigenous artesian market. Cochasqui consists of fifteen pyramids as well as 21 funeral mounds. It is not certain what the historic place was used for in the past; however, there are three theories. It may have been a place of ceremonial rituals, a residential place, a place of astronomical observation, or it might even have been used for all three of them.
But not only are the pre-Incan or Incan Empire historic sites of special interest to travellers, but as well many more historical and cultural sites within the country. To give visitors the opportunity to explore some of these special sites, Gulliver Expeditions is now offering tours that visit, for example, Ingapirca, the Pucara El Salitre, the indigenous town of Otavalo or the Lagoon Quilotoa in the Andes.
The 5-day Condor Trek around the Cotopaxi National Park leads visitors through breathtaking landscapes within the Avenue of the Volcanoes, including the crossing of the park with a visit to the historic Incan site Pucara El Salitre. On this trek, visitors do not only get the chance to appreciate the wonderful scenery but as well to learn about the Incan Empire in Ecuador.
Otavalo hosts the biggest indigenous artesian market in South America. Here in Otavalo, the visitor can feel the real indigenous Ecuador. The colorful market offers almost everything; from artifacts, over indigenous clothing, to fresh fruit and vegetables. The tour as well includes a visit to the equator line, the town of Cayambe with its famous biscuits Biscochos, the leather city Cotacachi and the beautiful crater lagoon Cuicocha.
The lagoon Quilotoa is located about a three-hour drive from Quito and leads through beautiful Andes landscape. The drive passes through indigenous little Andes towns, through numerous sections with little typical Andes huts covered with Andes grass, and ends at the amazing lagoon Quilotoa, which is beautifully set inside an erupted volcano crater. The tour includes a visit to either the indigenous markets of Saquisilí or Pujili, depending on the day of visit.
Therefore, as the famous Inca Trail is closed during the month of February and as Ecuador as well offers great historic and cultural sites to be visited, it is now your chance to visit these and even more cultural and historical places within Ecuador with a safe and reliable tour operator from Quito, such as Gulliver Expeditions.
About Gulliver Expeditions
Gulliver Expeditions, Quito based tour operator and agency, specializes in adventure travel Ecuador, including climbing and hiking tours in the Avenue of the Volcanoes and the highlands. They also offer cultural sightseeing, biking tours, horseback riding, jungle trips and once-in-a-lifetime cruises to the Galapagos Islands, as well as tailor-made itineraries for trips across the whole country.
Every one of Gulliver's Ecuador tours intergrates high-quality, personalized service, competitive prices, high standards in safety procedures as well as professional, qualified guides.
For more information contact Gulliver on http://www.gulliver.com.ec, mail to info(at)gulliver(dot)com.ec or call +593 (2) 2529297 or +1 (347) 535 066.