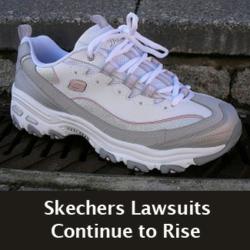 Contact Wright & Schulte LLC today for a free Skechers injury lawsuit case evaluation available through yourlegalhelp.com, or call 1-800-399-0795.
Columbus, OH (PRWEB) February 20, 2013
Skechers lawsuits continue to rise, despite a $40 million settlement(1) reached with the U.S. Federal Trade Commission (FTC) last year, according to the experienced personal injury law firm of Wright & Schulte LLC. While the Skechers class action lawsuit settlement resolved charges that the manufacturer of Skechers Toning Shoes made unfounded claims about the shoe's purported benefits, consumers allegedly injured while wearing Skechers have filed dozens of Skechers injury lawsuits in a multidistrict litigation now underway in the U.S. District Court, Western District of Kentucky. (In Re: Skechers Toning Shoes Products Liability Litigation – MDL 2308)
Wright & Schulte LLC, which is playing a leading role in the federal Skechers litigation, and recently filed more than 100 Skechers injury lawsuits in the Western District of Kentucky. Richard W. Schulte, a partner with Wright & Schulte LLC, is serving on the Plaintiffs' Steering Committee in the federal Skechers litigation. The firm continues to offer free Skechers injury lawsuit consultations to anyone who suffered a serious injury while using Skechers Shape-Ups. For more information on filing a Skechers Shape-Ups lawsuit, or to arrange for a free legal consultation, please visit http://www.yourlegalhelp.com, or call 1-800-399-0795.
Skechers Shape-Ups were introduced in 2009, and quickly became the market leader in the toning footwear category, according to the FTC. Consumers were induced to spend as much as $100 per pair on the toning shoes by advertising campaigns in which celebrity endorsers, including Kim Kardashian and Joe Montana, promised the shoes would enable a wearer to "Shape Up While You Walk," and "Get in Shape without Setting Foot in a Gym." However, in May 2012 Skechers USA agreed to pay $40 million to settle FTC charges that the company deceived consumers by making unfounded claims that Shape-Ups would help people lose weight, and strengthen and tone their buttocks, legs and abdominal muscles. The Skechers Shape-Ups settlement barred the company from making claims for its toning shoes unless they are true and backed by scientific evidence, including:

claims about strengthening;
claims about weight loss; and
claims about any other health or fitness-related benefits from toning shoes, including claims regarding caloric expenditure, calorie burn, blood circulation, aerobic conditioning, muscle tone, and muscle activation.
(1)http://www.ftc.gov/opa/2012/05/consumerrefund.shtm
While the FTC settlement provided consumers with refunds for the purchase of their shoes, it did not include compensation for injuries allegedly caused by Skechers Shape-Ups. The Skechers Toning Shoes litigation was established in the Western District of Kentucky in December 2012 for federally-filed personal injury lawsuits related to Skechers Toning Shoes. All of the lawsuits pending in the litigation allege Skechers Shape-Ups are defective due to a rocker bottom sole that alters a wearer's gait and causes severe lateral instability. Among other things, the lawsuits point out that a study conducted by the American Council on Exercise (ACE) in 2010 reported(2) that there was "simply no evidence to support the claims that these shoes will help wearers exercise more intensely, burn more calories or improve muscle strength and tone." The study raised additional concerns that use of such shoes "may alter the walking gait mechanics of wearers and, in some cases, potentially cause problems for those who may already be at risk for lower-extremity issues."
(2)http://www.acefitness.org/pressroom/758/ace-research-study-finds-toning-shoes-fail-to/
About Wright & Schulte LLC
Wright & Schulte LLC, an experienced personal injury firm, is dedicated to the belief that America's legal system should work for the people. Every day, the attorneys of Wright & Schulte LLC stand up for the rights of people who have been injured or wronged by defective drugs and their side effects, complications from defective medical devices, and unsafe consumer products, and fight tirelessly to ensure that even the world's most powerful corporations take responsibility for their actions. If you're looking for a law firm that will guarantee the aggressive and personal representation you deserve, please do not hesitate to contact Wright & Schulte LLC today. Free Skechers injury lawsuit case evaluations are available through yourlegalhelp.com, or call 1-800-399-0795.