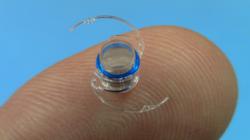 "The IMT is a technological wonder and the surgery is 21st century medicine," stated Dr. Kinkade.
Manchester, CT (PRWEB) February 19, 2013
Thanks to a new FDA approved technology and the formation of Connecticut's first multi-disciplinary medical team, patients suffering with macular degeneration (AMD), now have a new low vision rehabilitation option.
The Doctors
Dr. Mark Milner, cornea-cataract surgeon, Dr. Nauman Chaudhry, a retina specialist, and Dr. Randolph Kinkade, a low vision optometrist, teamed up in CT, to provide patients with real options in restoring some of the lost vision that results from AMD. The trio is Connecticut's first Implantable Miniature Telescope (IMT) rehabilitation team. This integrated approach provides patients with not only the first surgical option but also an entire treatment program with the oversight of a team of highly trained physicians.
"Up to now, these patients have been told by their doctors 'sorry, there is nothing we can do for you,' " said Dr. Kinkade.
The Technology
The New FDA Approved technology is Centrasight™, a new treatment program for end-stage AMD from VisionCare Ophthalmic Technologies using the Implantable Miniature Telescope (by Dr. Isaac Lipshitz). The CentraSight treatment program uses a tiny telescope that is implanted inside the eye to improve vision and quality of life for individuals affected by End-Stage AMD. End-Stage AMD is the most advanced form of age-related macular degeneration (AMD). The CentraSight treatment program involves four steps: 1) diagnosis, 2) candidate evaluation, 3) implantation and 4) rehabilitation.
The IMT replaces a developing cataract in the eye and is about an eighth of an inch in length. It fits behind and through the pupil. IMT is not a cure for macular degeneration, but rather a rehabilitation tool used to enhance their remaining vision.
"The IMT is a technological wonder and the surgery is 21st century medicine," stated Dr. Kinkade. "It is the closest we have to a bionic eye since it replaces some of the lost precision vision, but it is the therapy after surgery that we see the real gain in vision."
IMT surgery and the related treatment programs are covered by Medicare.
The Disease
Age-related macular degeneration (AMD) is a medical condition, which usually affects older adults and results in a loss of vision in the center of the visual field (the macula) because of damage to the retina. It is a major cause of blindness and visual impairment in older adults over 50 years of age.
Approximately 2 million Americans have advanced forms of AMD with its associated vision loss. People with advanced macular degeneration are no longer able to see to read and write, drive a car, or recognize family and friends.
Although some macular dystrophies affecting younger individuals are sometimes referred to as macular degeneration, the term AMD generally refers to the age-related condition.
The Patients and Protocol
The telescope implant has been shown to improve vision and quality of life in patients with End-Stage AMD, the most advanced form of AMD in which individuals have lost central vision in both eyes. Not everyone who has End-Stage AMD is a candidate for the CentraSight treatment program.
Some people with AMD may benefit from Spectacle Miniature Telescopes (SMTs). SMTs use mini-telescopes fabricated into eyeglasses that provide 2-3 times the magnification of regular glasses. Dr. Kinkade has been prescribing SMTs for patients with macular degeneration and other low vision conditions for over 20 years.
For additional information on the IMT in Connecticut contact Dr. Randolph Kinkade at (800) 756-0766 or visit http://www.lowvisioneyeglasses.com.