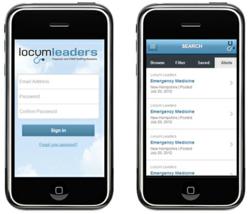 The Locum Leaders app makes job searching easier for busy physicians.
Alpharetta, GA (PRWEB) February 21, 2013
Locum Leaders, a national physician recruitment firm specializing in part-time or "locum tenens" jobs, today announced the availability of its new Locum Jobs app for iPhone, iPad and Android smartphones and tablets.
The new app lets physician job seekers find and apply for locum tenens jobs by specialty, create and save job alerts, share jobs with colleagues, and upload CVs and other important documents through their device.
"With physician adoption of smartphones at 80% or higher, it's clear that more doctors are using apps to manage their professional lives," said Locum Leaders CEO Will Drescher. "The Locum Leaders app aims to make job searching easier and more productive for busy physicians."
The new app is free and available on the iTunes and Google Play stores. It can be found by searching "Locum Leaders" or "Locum Jobs" in either app store. Links to the app are also available on the Locum Leaders website.
About Locum Leaders
Locum Leaders is a leading locum tenens recruitment firm specializing in hospitalist jobs, emergency medicine jobs and other physician employment opportunities. For more information and to find locum tenens jobs, visit the company's website at http://www.locumleaders.com or call 877-562-8656 (877-LocumJobs).