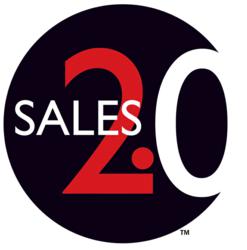 Every company on the planet that has any type of sales force whatsoever [needs to automate] comp performance.
Santa Cruz, CA (PRWEB) February 21, 2013
Sales Dot Two Inc. today announced that Xactly Corporation CEO Christopher Cabrera will present a keynote speech at the upcoming Sales 2.0 Conference on April 8-9 in San Francisco at the Four Seasons Hotel.
In his session, The Definitive Metrics of Sales Performances: New Insight on What Drives Success, Chris Cabrera will share which metrics that can lead sales teams to top performance.
Xactly has aggregated terabytes of sales-performance and customer-transaction data from hundreds of sales organizations and extracted invaluable insight that will help sales leaders align sales compensation with sales strategy. Sales leaders will learn which metrics can help benchmark success and be used to incentivize sales reps. Cabrera will also unveil new tools designed to help sales reps hit their quotas.
Cabrera's session will take place from 9:20 a.m. – 9:55 a.m. in the Veranda Ballroom on Tuesday, April 9, 2013.
Organizers of the Sales 2.0 Conference say that Xactly products and services are a true reflection of a Sales 2.0 mindset.
"Sales 2.0 is all about aligning people, process, and technology," says conference host Gerhard Gschwandtner. "Xactly is a Sales 2.0 leader when it comes to sales compensation automation."
"The reality is that every company on the planet that has any type of sales force whatsoever [needs to automate] comp performance," said Cabrera in a recent video interview with Gschwandtner. "Compensation is a difficult challenge, and we want to be the best comp company on the planet." Cabrera added that Xactly Corporation spent $40 million in research and development before rolling the latest version of its flagship product, Xactly Incent.
Xactly Corporation was created to meet the needs of the broader market by providing the most affordable on-demand sales compensation solution allowing companies to improve their business performance through the use of more effective sales compensation programs. Xactly enables companies to easily and affordably design, implement, manage, audit and communicate sales compensation programs. By providing more effective plans and better visibility, these companies can dramatically improve sales performance. Xactly helps companies such as ARM, British Gas, Motorola Inc, Informatica, and Mavenir Systems to improve operational performance, optimize sales effectiveness, proactively manage risk and compliance and maximize profits. The Xactly family of products is used by sales and finance executives, compensation analysts, sales operations and sales professionals across a variety of industries, ranging from SMBs to large enterprises.