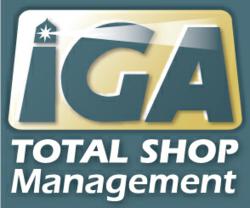 Now with the click of the mouse in TSM, we can provide proof of our relationship with our customer
Scottsdale, AZ (PRWEB) February 20, 2013
The Independent Glass Association (IGA) today announced that in conjunction with eDirectGlass, it has released a new tool called MyGlassClaim. This "industry first" service is fully integrated with the IGA Total Shop Management (TSM) program, which is an included membership benefit.
Automotive Glass Retailers can quickly provide customers with an electronic sales order where the service request can be reviewed along with the retailer's terms and conditions. Once the terms and conditions are accepted, the customer electronically signs the sales order and it is automatically transmitted to the necessary parties including the insurance company, third-party administrator (Network) and the ClaimHarbor system. This process provides the customer with the very best service by electronically including them in the claim reporting process. For the retailer, they gain the security of having a fully executed agreement with their customer thus eliminating the fear of potential steering or unwarranted inspections by the network or insurance company.
"MyGlassClaim is something the industry has needed for a very long time, "said Rick Rosar, IGA board member and owner of Rapid Glass, a Minneapolis auto glass repair company. "For years the networks and insurance companies have taken advantage of our ability to definitively show that the customer has hired us to perform repair or replacement glass services for their vehicle. Now with the click of the mouse in TSM, we can provide proof of our relationship with our customer," concluded Rosar.
IGA Total Shop Management is available in many different versions and a Quote Only edition is part of the IGA membership at no additional cost. The TSM Quote Only edition includes features such as Supplier Center and even includes the Mobile Edition add-on which offers a technician time clock system and the mobile companion version of Supplier Center. Other versions are available to members at modest subscription rates and all versions include MyGlassClaim with no additional fees.
"As someone who has devoted a considerable portion of my time to issues facing the industry, I am excited for the opportunity MyGlassClaim will provide for the automotive glass shop and the consumer," said Matt Bailey, IGA President and owner of 20/20 Auto Glass. "The success of MyGlassClaim will most certainly change the way the industry does business in the very near future," continued Bailey.
The IGA TSM system is a blend of point-of-sale (POS) and shop management services that make a tremendous difference to an AGRR shop both financially and operationally. While many shops may already be using another POS system, the IGA TSM system contains features and integrated services that cannot be found in any other POS system in the industry today.
"IGA members have been at an advantage when it comes to technology services allowing them to effectively serve their customers. We are excited that MyGlassClaim is an included service for our membership that will improve the overall glass claim process by reducing or eliminating tactics used to steal business from hard working automotive glass retailers," concluded Bailey.
MyGlassClaim is available for immediate use by any IGA member using Total Shop Management. For those who are considering joining the IGA or would like to see how MyGlassClaim works, they are encouraged to watch the MyGlassClaim video on the IGA YouTube channel.
About the Independent Glass Association (IGA):
Through its direct members, affiliate state chapters, and associate members, the IGA is comprised of automotive glass repair and replacement businesses and professionals in the USA and ten countries who work with consumers and insurance companies to provide high-quality automotive glass repair and replacement services. For more information about the Independent Glass Association or to join, please visit http://www.iga.org.