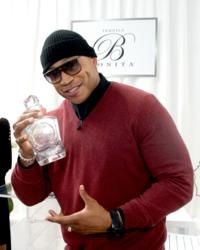 "I'm excited about the response I'm getting from my peers about the quality of the brand" - Xzibit
Los Angeles, CA (PRWEB) February 20, 2013
Hip Hop Superstar and Actor, Xzibit's Bonita Platinum Tequila was featured in The GRAMMY® Gift Lounge at The 55th Annual GRAMMY Awards®. "X" as he is commonly referred to amongst industry friends and his business partners, The Bonita Spirits Company were joined by a long list of A-Listers and musical powerhouses, such as Host LL Cool J, Justin Timberlake, Chaka Khan, Anthony Hamilton, Tyrese Gibson, The Lumineers, Faith Hill, Tim McGraw, Maroon 5, and a host of other celebrities and musicians who were among the first of recipients to try the new brand. Bonita Platinum launches at a private invite only party in Las Vegas on March 2, 2013 at the Hyde Bellagio.
This marks the first time that The Bonita Platinum Tequila has taken part in The GRAMMY Awards® week. Both Presenters and Performers got a chance to get their own giveaway bottle of the ultra-premium tequila. Bonita Platinum is a unique product in which Xzibit is one of only a hand full of celebrities who not only endorse a product, but co-own a brand. "The tequila is amazing," he said in an earlier interview. "I'm excited about the response I'm getting from my peers about the quality of the brand." Bonita Platinum Tequila is also visually appealing; bottled in pure crystal and wrapped in satin.
The music veteran turned business mogul had an opportunity to display the brand at the largest music awards show of the year. Many of the attendees of the GRAMMYs® Gift Lounge commented on the luxurious aroma of the brand. "We are looking forward to participating in many more years to come," said Bonita Spirits CEO, Chris Brown. The GRAMMY Awards® host music's largest peer recognized awards show to celebrate musical excellence and the most distinguished brands in the art of music.
As what's next for the brand, Xzibit will host the Official Launch of The Bonita Platinum Tequila brand in a private red carpet and RSVP only event on March 2, 2013 at the Hyde Bellagio. Several stars and major media outlets are expected to attend. Xzibit is now available for interviews regarding Bonita Platinum Tequila. For media requests, press passes for the red carpet, and interviews please contact BonitaSpirits.com/about-2/mediapress/ or contact Shay Brown of Royal Kingdom PR at 901-628-8011 or via email at press(at)royalkingdomagency(dot)com.