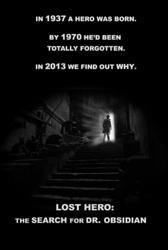 This might be the discovery of a lifetime.
Los Angeles, CA (PRWEB) February 21, 2013
Visual effects artist Mark Kochinski (Babylon 5, Star Trek, Sliders, Hellboy, Red Tails) and writer Eric Wallace (Eureka, DC's Titans, Shazam, Mr. Terrific) announce the launch of a Kickstarter campaign for LOST HERO: THE SEARCH FOR DR. OBSIDIAN, a documentary-like exploration of the history of a pulp superhero, from the serials of the 1930's to the blockbusters of the present day.
The crowdfunded project includes such Hollywood and comic book icons as director Russell Mulcahy (Highlander, The Shadow,) actresses Chase Masterson (Star Trek: Deep Space Nine) and Debra Lamb (Wild at Heart, Point Break, Beverly Hills Vamp) and writer Mark Waid (Kingdom Come, Superman: Birthright.)
"The short pitch is Spinal Tap with Superheroes. Our plan is to take everything we've learned from 20 years experience in writing and visual effects, and combine it with social networking, crowd funding and the web to produce a festival-ready feature film for less than the cost of a single episode of a reality show." says Kochinski.
The Kickstarter project includes incentives like original, one-of-a-kind artwork and posters, custom built props and costumes, and the ability for a participant to actually have a part in the film.
"It's going to be a lot of fun. We're making the kind of films that we and our friends - and we believe a lot of other people - would like to see." finishes Kochinski.