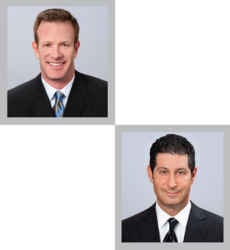 It is our mission to become the most trusted and well-respected wealth management firm in the industry.
Washington, DC (PRWEB) February 19, 2013
Convergent Wealth Advisors announced that Barron's has named two Convergent partners the top financial advisor in their respective states in its 2013 ranking of the top 1,000 financial advisors in the nation. This list includes both independent advisory firms and large wirehouses.
Dave Zier, Convergent's CEO and one of the firm's original partners, was awarded the #1 advisor spot in Maryland—his third consecutive year in the top spot. Steve Lockshin, Convergent's founder and chairman, received the honor of ranking #1 in California for the second year in a row. Convergent is the only independent advisory firm in the nation with two individuals awarded number one rankings on this list.
"Having not one but two of our top advisors ranked as the best-of-the-best is a tremendous honor for Convergent," said Convergent's president and COO, Douglas Wolford. "It is our mission to become the most trusted and well-respected wealth management firm in the industry. It's through the talents of advisors like Steve and Dave, and our culture of excellence from top to bottom, that make this mission feasible."
To read the Barron's profiles of Steve Lockshin and Dave Zier and to see the full list of rankings, please visit 2013 Top Financial Advisors: California and 2013 Top Financial Advisors: Maryland.
About Convergent Wealth Advisors
Convergent Wealth Advisors is a recognized industry leader in wealth management, advising on over $10 billion in assets (as of December 31, 2012). Convergent provides investment consulting services and customized wealth management solutions to ultra-high net worth individuals and family offices with investable assets of $10M and more.Independence by Convergent™ is a division of Convergent focused on servicing clients with $500,000 and more in investable assets.
Convergent has offices in Washington, DC, Los Angeles, New York, and Portland, OR.
Media Contact: Doug Wolford | 301.284.1112 | Doug.Wolford@ConvergentWealth.com
The Barron's rankings are based on data provided by over 4,000 of the nation's most productive advisors. Factors included in the rankings: assets under management (Convergent provided assets under advisement as of December 31, 2012 for this ranking criterion), revenue produced for the firm, regulatory record, and quality of practice. Quality of practice includes an advisor's regulatory/compliance record and philanthropic and charitable work. Non-deposit investment products are not FDIC insured, are not deposits or other obligations of Convergent Wealth Advisors, are not guaranteed by Convergent Wealth Advisors and involve investment risks, including the possible loss of principal.
Convergent is a majority-owned subsidiary of Convergent Capital Management, which is a subsidiary of City National Corporation (NYSE:CYN), the parent company of City National Bank.