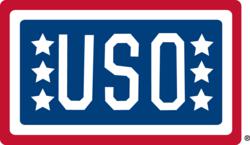 Arlington, Va (PRWEB) February 19, 2013
WHAT: For the first time, the USO Caregivers Conference comes to Camp Pendleton to help wounded, ill and injured troops and caregivers tackle many of the issues facing those caring for our nation's wounded warriors, such as: couples intimacy after the battlefield, Post Traumatic Stress, Traumatic Brain Injury, and helping children cope with reintegration and rehabilitation. The conference is free and open to caregivers, wounded service men and women and military medical advocates and staff from the San Diego area.
WHEN: Monday, February 25th 2013
9:00am – 2:30pm
WHO: More than 100 caregivers, wounded service men and women and military medical personnel
Featured presenters to include:

Col Williard Buhl, Commander, Marine Corps Wounded Warrior Regiment
Sloan Gibson, USO President & CEO
Trevor Romain, best-selling children's author and illustrator
Monique Dozier, Defense and Veterans Brain Injury Center
Melinda Morgan, Camp Pendleton Post Traumatic Stress, Class Site Leader
Caregiver Couple Panel
WHERE: Family Readiness Center
Building 1795
Camp Pendleton, CA 92055
RSVP: Media attending the conference must RSVP to Andrea Sok, USO Communications, by Friday 2/22/13 5pm PST for base access instructions.
CONTACTS: Andrea Sok, USO Communications at 703-579-0858 or asok@uso.org
###
About the USO
The USO lifts the spirits of America's troops and their families millions of times each year at hundreds of places worldwide. We provide a touch of home through centers at airports and military bases in the U.S. and abroad, top quality entertainment and innovative programs and services. We also provide critical support to those who need us most, including forward-deployed troops, military families, wounded warriors and families of the fallen. The USO is a private, non-profit organization, not a government agency. Our programs and services are made possible by the American people, support of our corporate partners and the dedication of our volunteers and staff.