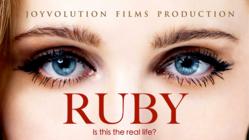 Give A New Generation, A New Voice. HIV/AIDS Awareness
Los Angeles, CA (PRWEB) February 20, 2013
Starting February 19th, award-winning writer/director Amy Tam and her team of renowned industry insiders are taking to Kickstarter to launch their "Ruby: Crowd-Funding for a Cause" campaign. This renowned film will bring a new voice for HIV/AIDS awareness to a younger generation.
The film chronicles a year in the life of Ruby, a musical prodigy whose glamorous public rise to fame is juxtaposed with her simultaneous fall into drug addiction and HIV/AIDS. After inspiring so many with her musical talent, Ruby has the chance to inspire so many more by choosing her uncompromising authenticity as she overcomes the challenge that her life will never be the same.
Writer Amy Tam says, "In a culture overrun with headlines that threaten to break our spirit and hope, Ruby provides an answer to the urgent requirement for new role models. Ruby dispels the idea of chasing answers on the outside and shows young people that everything they need is within. Our Kickstarter Campaign will allow Ruby's story to be told as the film speaks to the emotional journey of living with HIV/AIDS."
Ruby needs backers as she leaves behind the voice she used to entertain, and takes on the voice of inspiration and HIV/AIDS awareness. Her message needs to be heard in a new generation that wrongly, and dangerously, all too often dismisses the issue of HIV/AIDS not just in terms of its own risk, but also in terms of the human side of the disease.
Ruby's "Crowd-Funding for a CAUSE" campaign will directly contribute to the production of Ruby, facilitating the creation of 2 original Ruby pop songs, the final draft of the screenplay, and casting. With incentives ranging from $1 in exchange for seeing your name listed on the Ruby website in recognition of your support to $250 in exchange for inclusion in an exclusive set of "creative consultants" who will be granted access to vote online on locations, music, and other creative elements for use in the film, there is a donation opportunity for everyone who wants to join the cause.
Acknowledging the fierce odds in the independent film sphere, Amy Tam decided to take to the crowd to help fund this project. Teaming up with Visual AIDs and The Elizabeth Glaser Pediatric AIDS Foundation, Ruby will use the universal platform of film to broadcast the issue of HIV/AIDS awareness while serving as a vision of high self-esteem for the pop culture generation.
The film will personify the issue of HIV/AIDS and inspire viewers to help further the cause, effectively revealing an opportunity to potentially save lives and empower youth culture. We look forward to welcoming backers to this project of love in action. For more information on Ruby or to donate, please visit: http://www.kickstarter.com/projects/amytamfilm/ruby-feature-film
###
Ruby: Crowd-Funding for a CAUSE Kickstarter campaign: http://www.kickstarter.com/projects/amytamfilm/ruby-feature-film
About Ruby, the movie: "Like" Ruby on Facebook at: https://www.facebook.com/rubymovieofficial or send Ruby a Tweet @RubyMovie
About writer, director, & producer Amy Tam: (http://www.AmyLTam.com) Amy Tam is an award-winning Australian artist and filmmaker with over a decade of experience in multidisciplinary Fine Art and Film. She earned her Bachelor of Fine Art at the Victorian College of the Arts (VCA), Melbourne, Australia with High distinction an was awarded a Brett Ratner scholarship to attend the New York Film Academy. She is currently developing her break-through feature film, Ruby in the roles of Writer and Director, which is scheduled for pre-production in January 2013 and is the CEO of Joyvolution Films, created as a platform for creative independent artists.
The Creative Team:
Advisor Stephanie Palmer founded Good in a Room in 2005 and is the author of the book "Good in a Room" (Random House). Music Supervisor Stephen Craig Aristei became the General Manager of Warner Bros. Music, the 2nd largest music publishing company in the world, in 1971 and remained with the company for over 12 years. Production Designer Michael Scott-Mitchell is regarded as one of Australia's most outstanding designers. Visual Effects Producer Rebecca Dunn has over 10 years experience in visual effects for film and television and is credited for over 50 productions. Rebecca has worked in Sydney, London, and New York on award-winning projects.
About Visual Aids: Visual AIDs Visual AIDS was one of the first national initiatives to record the impact of the AIDS pandemic on the artistic community.
About Elizabeth Glaser Pediatric AIDS Foundation: The Elizabeth Glaser Pediatric AIDS Foundation is a nonprofit organization dedicated to preventing pediatric HIV infection and eliminating pediatric AIDS through research, advocacy, prevention, care, and treatment programs.
For More Information, contact:
Creative Capital Group (CCG)
Nasrin Pak
Nasrin(dot)ccg(at)la
(310) 451-2116