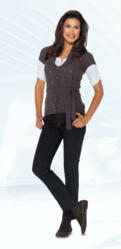 Peachtree City, GA (PRWEB) February 19, 2013
A new style is launching in one of SIGVARIS' favorite comfort lines. The SIGVARIS Cotton Series closed toe calf product will now be available with a grip-top in two color options, black and crispa for men and women.
For patients with edema (swelling) around the knee area, the new grip-top feature can ensure that the Cotton Series socks stay in place all day. In fact, in another SIGVARIS product line, the Select Comfort Series, the calf-length product with a grip-top has been so popular among consumers that SIGVARIS decided to extend this feature to the SIGVARIS Cotton Series.
The SIGVARIS Cotton Series has been a favorite among consumers, since it launched more than 10 years ago. The socks and thigh-highs are constructed with 25 percent Supima® Cotton for all-day comfort, breathability and durability. The product is ideal for those with sensitive skin and allergies, as only cotton touches the skin. The Cotton Series is often recommended by physicians for patients with venous disorders or as treatment after a Deep Vein Thrombosis (DVT).
Thomas Herndon, who lives in Georgia, has been wearing SIGVARIS products since 1996; after he suffered from a DVT.
When Herndon's doctor initially prescribed medical compression stockings, he was placed in another brand and later told he would need a custom-made garment. After conducting some research, he discovered that he could find the fit he needed in a ready to wear garment and decided to try the SIGVARIS brand.
Herndon has been wearing SIGVARIS since that time. "I have been really satisfied with the comfort of the SIGVARIS products," Herndon says. "I wear both the SIGVARIS Cotton and Select Comfort products, and I like them both."
To learn more about leg health or to find a SIGVARIS dealer near you, visit: http://www.sigvarisusa.com.
About SIGVARIS
SIGVARIS® North America is part of an internationally active medical device group headquartered in Winterthur, Switzerland that focuses on the development, production and distribution of medical compression garments, including hosiery and socks. With distribution in more than 60 countries on six continents, SIGVARIS is recognized as a global industry leader in the area of compression therapy for the management of chronic venous disorders. SIGVARIS product lines include: SIGVARIS MEDICAL, SIGVARIS WELL BEING and SIGVARIS SPORTS. Our US manufacturing plant is located in Peachtree City, GA. For more information, please visit http://www.sigvarisusa.com. SIGVARIS is a registered trademark of SIGVARIS AG, CH-9014 St. Gallen/Switzerland and in many countries worldwide.