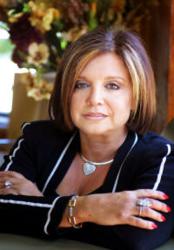 Ultimate Bridal Beauty Wants You To Look Great and Feel Good!
Boca Raton, FL (PRWEB) February 28, 2013
Jaye Minton Goldberg has graced, with her knowledge and expertise, Florida's beauty scene for over 25 years in Boca Raton. She is well known from her studio and television work in the local and regional film and broadcast community, and is a star in the bridal world for all aspects of bridal beauty; from skin care, airbrush makeup and hair care and onto the bridal day for bride, groom and bridal party.
Most recently Ms Goldberg was the airbrush makeup artist for the winning bride and her bridal party and will be forever linked to the Four Weddings Series on TLC which aired on 12/12/2012. Her bride and groom won the honeymoon giveaway with their themed, Christmas Derby style wedding at the Polo Club of Boca Raton, Florida.
Ms. Minton-Goldberg was the first spa director in South Florida to bring the idea of an eyelash extension beauty bar into her beauty efforts; and with phenomenal success! Jaye is consistently in the forefront of beauty. Ms. Goldberg has delighted all who have been lucky enough to experience her expertise in the twenty-five years she has been working in the beauty and wedding industries in South Florida. The skin care and hair care experts of Ultimate Bridal Beauty will make your wedding day the most beautiful day of your life, truly.
Jaye Minton Goldberg's from 2011 to the present time has been the President of Ultimate Bridal Beauty, and Jaye Cosmetics in Boca Raton, Florida. Her company provides professional airbrush makeup and hair design for weddings, and other special events and occasions.
Jaye was the Owner and Executive Director of Look Great European Day Spa and Hair Salon in Boca Raton, Florida. She has worked in the beauty industry in South Florida for over 25 years.
From 1999-2003 Jaye was On-Air Chief Make-Up and Hair Stylist for Zernon Television and Osiris Entertainment Television. Jaye Goldberg has performed location work at Ocean Studios, Palm Beach Florida, WXEL Studios, Boynton Beach, Florida, On Location Photography Shoots at The Breakers, Palm Beach, Ritz-Carlton, Palm Beach, Biltmore Hotel, Miami, The Shore Hotel, and in Miami Beach.
Jaye Goldberg was the Celebrity Airbrush Makeup Artist on many photography shoots for Ms. Loni Anderson, Ms. Suzzanne Sena, Ms. Debra Norville, Ms. Paula Abdul, and Mr. Dan Marino. Ms. Goldberg has also done many national and international shoots with the above artists for the following nationally-syndicated television shows for example; In Motion With Dan Marino, Entertainment Tonight With Ms. Sena, Modern Cuisine With Loni Anderson (Food Network), Today's Health With Ms. Norville.
Ms. Goldberg is a graduate of the Barry Berger School of New York City, and has worked with all top Florida Models and agencies. Jaye Minton Goldberg is one of South Florida's leading and most highly sought-after Bridal Consultants for Airbrush Makeup & Hair. She has also worked with the many well-known Plastic Surgeons on Beauty Consults for surgical patients and Cosmetic Procedures for Permanent Make-up with Dr. Daniel Man, Dr. Gary Rosenberg, Dr. Dalia Kalia, and Dr. Croft, all well known locally as well as nationally.
Ms. Goldberg has consulted for and advised on Wellness, Health and Beauty at the following Conventions Associations and Societies for example; Boca Raton Hotel & Club, Southern Society of Orthodontists, American Academy of Aesthetic Dentistry, Direct Marketing Association, Pitney Bowes, Miami Convention Bureau, Audi of America, Touché Ross, Westinghouse Power Systems, Sonesta Beach Hotel (Key Biscayne), General Motors Corporation, Allied Corporation, Boca Raton Museum of Art and Hotel Sales & Marketing Association.
Ms. Goldbergs magazine cover credits include credits in Cosmopolitan Magazine, Sun Sentinel, National Enquirer, Boca News and Boca Magazine.