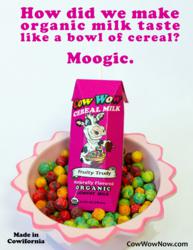 "Selling Cow Wow on Amazon.com allows us to fill nationwide demand as we steadily expand," said President and Founder Chris Pouy.
Los Angeles , Calif. (PRWEB) February 21, 2013
In response to demand outside of Southern Calif., on Feb. 22, 2013 Cow Wow, the organic, naturally flavored, low fat milk cereal milk, is making its national debut on Amazon.com.
"We are really excited to be bringing Cow Wow to market in Southern California and now officially nationwide," said President and Founder Chris Pouy. "Selling it on Amazon.com allows us to fill outside requests as we steadily expand in-store."
The appealing packaging and one-of-kind cereal flavors that you knew and loved as a kid, will be available in two delicious cereal milk flavors, Fruity Trudy and Chocolate Chip Cathy.
Cow Wow goes beyond the three standard flavors: chocolate, vanilla and strawberry and creates milk flavors that are as imaginative as the kids who drink it, with additional flavors Cinny Minny and Marsha Mallow set to launch in 2013.
Beyond the taste, Cow Wow also includes nine essential vitamins and minerals including calcium, potassium (400 grams) and protein (12 grams) and only 6 grams of added organic cane sugar.
"Parents on the go want a snack that's healthy, but easy to feed their kids without the fuss. Cow Wow is the not too sweet alternative that fuels daily diets with essential calcium only found in dairy products," said Pouy.
Conveniently packaged in single serving milk boxes, Cow Wow is available in over 100 locations throughout Southern California including all twelve Bristol Farms, select Albertsons, Legoland, the LA Zoo and now Amazon.com. For more information, please visit: http://www.cowwownow.com.
For media inquiries or samples please contact: Heather Spilsbury, at 818.470.6261 or [email protected]
About Cow Wow:
Cow Wow, a single-serve, ready-to-drink, flavored milk box captures the unique and delightful taste of the bottom of the cereal bowl. This delicious and nutritious dairy beverage is a low-fat, organic milk that contains nine essential nutrients and vitamins and is a good source of calcium, protein, and potassium. The product is UHT processed, which certifies refrigeration is optional, and can be stored for up to one year until ready to drink. Cow Wow recreates the best part of the bowl into a healthy snack!